By Scott Baltic, Contributing Editor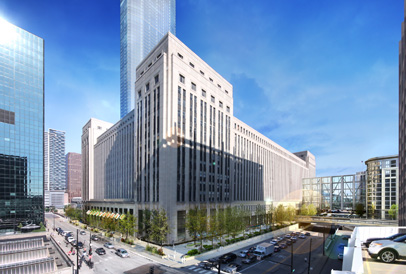 Chicago—Noting that the sale was "conditional"—make of that what you will—International Property Developers North America, the owner of Chicago's Old Main Post Office complex, announced last week that the 2.7 million-square-foot property is to be acquired by 601W Cos., a New York–based investment group. The buyer reportedly "showed serious interest" last May 2015, and the parties executed a sale contract last week, "after lengthy and complex negotiations," according to a prepared statement. The sale price was not disclosed.
IPDNA stated that after researching the optimum uses for the Old Post Office and the adjoining sites, in the southwest part of the Central Business District, on the Chicago River, it engaged global CRE firm Savills to seek a joint venture partner or a purchaser. The contract signed last week followed 18 months of presentations in the United States, Canada, China, Japan, South Korea, Malaysia, the Middle East and Europe.
Neither 601W nor Chicago's Antunovich Associates, which had designed the plans for the project's redevelopment under IPDNA, responded to Commercial Property Executive's requests for further information.
The building is famous locally for being where the Eisenhower Expressway (I-290) unofficially starts (westbound) or ends (eastbound). Either way, an eight-lane elevated highway runs through the structure.
IPDNA's redevelopment plans had included residential, retail, entertainment, hotel and office parking components and received entitlements from the Chicago City Council in 2013. Nonetheless, the complex, which includes annex buildings and adjoining sites along with the massive main building, remained in limbo.
Last month, CPE reported on the then most-recent news about the long-troubled site, which was the announcement by the City of Chicago that it would seek to use eminent domain to take control of the 11.1-acre property.
A Chicago planning official called the lack of progress on redevelopment "unacceptable" and said that the continuing obsolescence of the main building would only make rehabilitation more difficult.
If the just-announced sale goes through, the Old Post Office complex would join 601W's current, and very substantial, holdings in Chicago, which include the Aon Center (2.75 million square feet), Prudential Center (2.3 million square feet), 600 W. Chicago (1.6 million square feet), 111 W. Jackson (550,000 square feet), the Civic Opera Building (900,000 square feet) and 180 N. La Salle (770,000 square feet).
IPDNA was represented by Richard Sykes of Savills UK and Lisa Davidson and Tiffany Winne of Savills Studley. 601W was represented by Jaime Fink and Jeff Bramson of HFF.
The Old Chicago Main Post Office was built in 1921, hugely expanded in 1932 and replaced and vacated in 1997. When the U.S. Postal Service finally put the building up for auction in October 2009, IPDNA's Bill Davies, a U.K.-based investor, bought it for about $17 million.
Image courtesy of International Property Developers North America