By Gail Kalinoski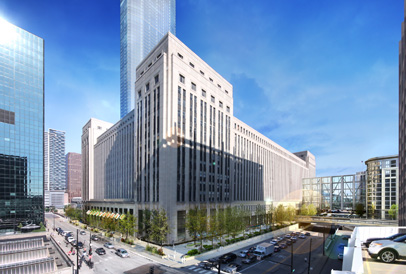 Chicago—After years of waiting for a European-based developer to rehabilitate Chicago's old Main Post Office in the West Loop, the city has had enough, announcing this week it was going to seek control of the 11.1-acre site along the Eisenhower Expressway.
The decision by Mayor Rahm Emanuel and his administration could set up a battle over the eminent domain process because a representative of British developer Bill Davies said he was not going to give up the massive property without a fight.
"The city wants control of it. I'm sure it will be a low offer. But (Davies) is not going to say to the city, 'Come along and take the building if you like,' '' Martin Mulryan, Davies' project manager, told the Chicago Sun-Times.
The 2.5 million-square-foot post office and annex buildings, bounded by Van Buren, Canal, and Harrison streets and the Chicago River, have been vacant and decaying for over 20 years. Davies bought the building from the U.S. Postal Service in 2009 for $24 million, according to Crain's Chicago Business. Mulyran said in the Sun-Times interview that Davies, head of International Property Developers North America Inc., has put at least $70 million in the site.
"The lack of redevelopment progress is unacceptable and the building's ongoing obsolescence and blighted condition will make future rehabilitation more difficult," Planning Commissioner David Reifman said in a press release. "As one of the largest buildings in Chicago, the post office complex represents a tremendous opportunity for new investment that could create thousands of permanent jobs and construction opportunities for local residents."
Davies proposed several redevelopment plans for the property that would adapt the historic Post Office into a retail, residential and entertainment center. Officials noted the City Council approved a $1.5 billion redevelopment plan in July 2013 that included 2,150 residential units and thousands of additional housing units, hotel rooms and commercial spaces on the adjacent land, but no significant work was completed. The most recent proposal from Davies, floated earlier this year, was for micro-apartments – tiny residences ranging from 280 to 600 square feet.
Apparently the Emanuel administration has had enough of Davies' unfulfilled promises and said it notified Davies that it intended to issue a Request for Proposals for a company to take over development of the site. The city said it would seek control of the property through eminent domain, but that no city funds would be used to acquire or redevelop the Art-Deco building. Depending on how the site is developed, city officials say it could be eligible for historic tax credits or Class L status, which reduces the assessment levels to owners seeking to rehabilitate landmark commercial properties.
"Today's action will accelerate the process of transforming the old Main Post Office, which has set empty for more than two decades, into an economic driver for the neighborhood and the entire city," Emanuel said in a prepared statement. "Development of this key gateway to the city can create thousands of jobs while rebuilding one of Chicago's iconic structures."
The Community Development Commission will consider starting the eminent domain process and a RFP at a March 8 meeting. If approved, the RFP will be released this spring and a qualified developer could be chosen by summer.
Image courtesy of International Property Developers North America