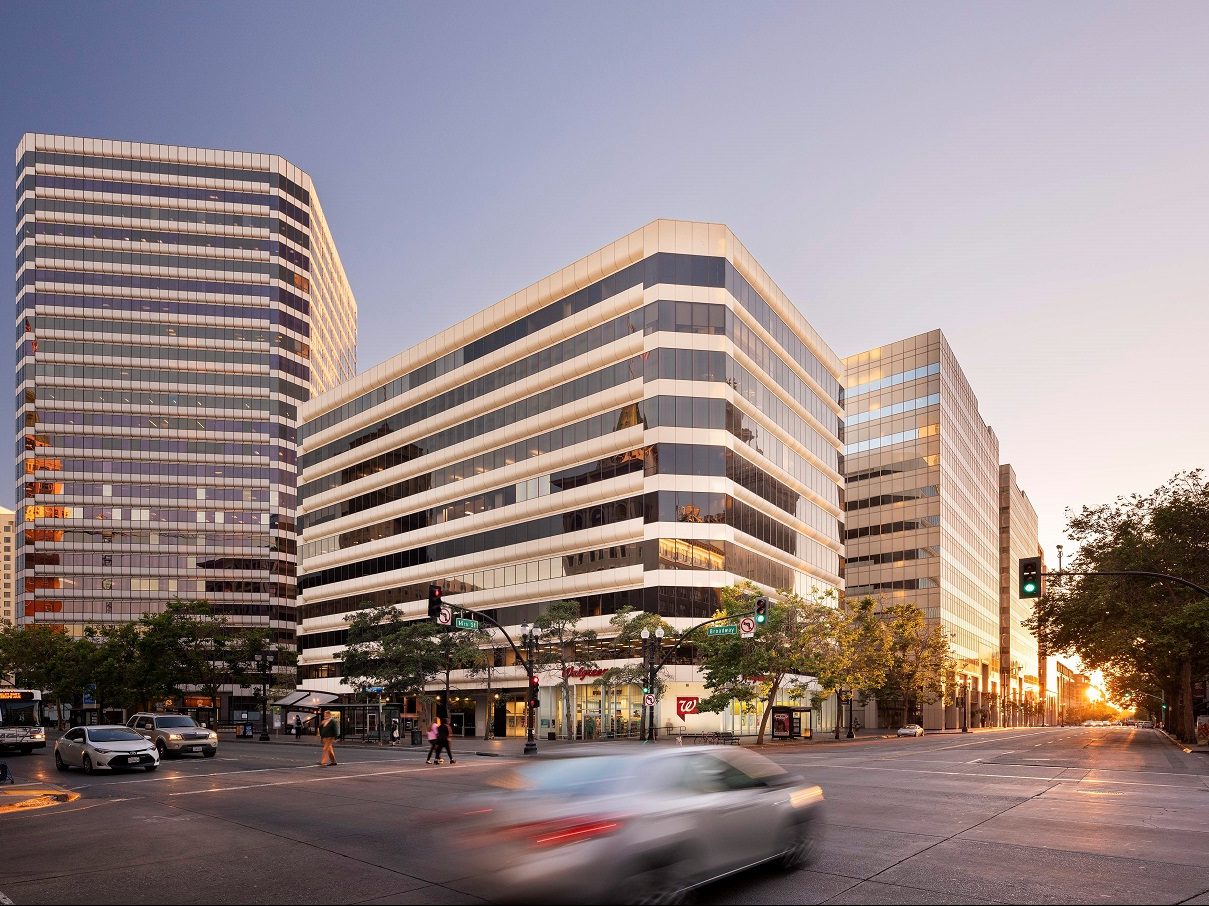 HFF has arranged approximately $93 million in acquisition financing for 1333 Broadway, a 253,393-square-foot office building in Oakland, Calif. HFF worked on behalf of the buyer, Swift Real Estate Partners, and secured the floating-rate loan through an affiliate of Brookfield Asset Management. The seller of the 10-story asset was CIM Group. The price was $115 million, according to information provided to Commercial Property Executive by Yardi Matrix.
The Class A building is located in Oakland's central business district, directly adjacent to the 12th Street City Center BART station, only two stops from San Francisco. The property also offers quick access to highways 980 and 880. The building was 95 percent occupied at the time of sale, with the tenant roster including Delta Dental and Teecom, an engineering consulting firm.
"(The property) benefits from a strong tenant base that has invested significantly in their space," Swift Director David Copeland said in a prepared statement. "This area is undergoing a substantial transformation enhanced by approximately 1,500 new residential units and corresponding ground-floor retail under construction within a three-block radius."
The LEED Silver-certified building was completed in 1974. CIM had acquired the property from Brandywine Realty Trust in late 2008, as part of a $412.5 million portfolio transaction, according to Yardi Matrix data.
The HFF debt placement team consisted of Managing Directors Jordan Angel and Mark Root. Jacobus Machalow of Orrick provided legal representation for Swift Real Estate Partners.
Swift did not reply to Commercial Property Executive's request for additional information.
An active East Bay
The East Bay/Oakland Class A office market has an overall vacancy rate of 8.9 percent on an inventory of just under 14.5 million square feet, according to a first-quarter report from Cushman & Wakefield.
A significant 1.5 million square feet is under construction, in a market that is looking at statistically full employment, the region's well-publicized housing shortage, and the relocation from San Francisco of major employers such as Square and Blue Shield.
Not quite a year ago, KKR acquired the building across the street from 1333 Broadway. TMG Partners was the seller of the 320,000-square-foot property at 1330 Broadway, which was purchased by KKR for a price reported to be over $173 million.
More recently, a joint venture of KKR and TMG Partners bought 1221 City Center in Oakland, a 522,000-square-foot, LEED Platinum-certified office tower in the central business district. At a reported $255 million, the deal was touted as the priciest single-asset sale in the city's history.