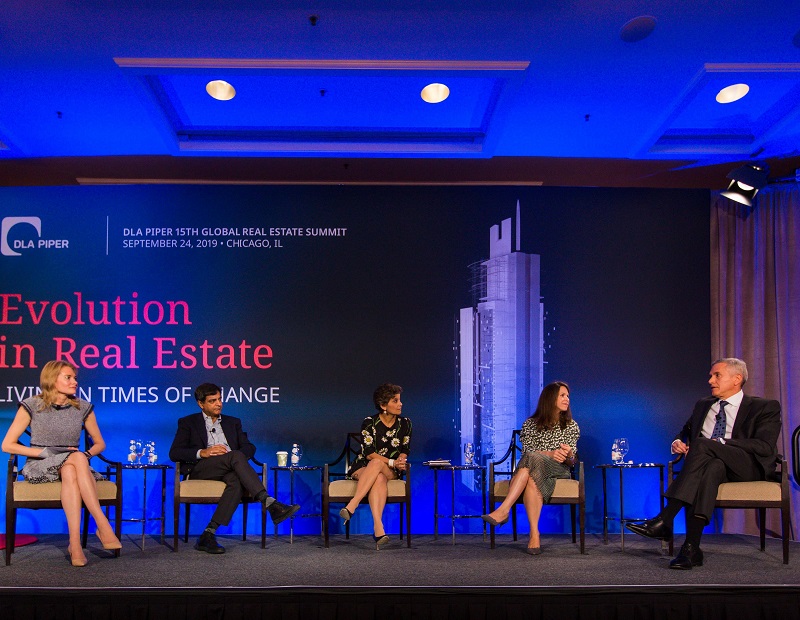 Now at its 15th edition, global law firm DLA Piper's real estate forum once again gathered some of the industry's most important voices and companies. On Sept. 24, 2019, top executives and industry veterans from Blackstone, Brookfield, USAA Real Estate, Allianz, Ventas, The Cohen Group, Alphabet Inc.'s Sidewalk Labs, PwC, Hines, Wells Fargo, Goldman Sachs and many others met in Chicago for a series of panels tackling everything from interest rates and policy to proptech and tomorrow's disruptors.
Click on the links below to read CPE's coverage of the event.
Q&A: An Under-the-Radar Look Beyond Late-Cycle Plays
DLA Piper's chair of the U.S. real estate practice & co-chair of the global real estate practice ties together some of the key points from the firm's Chicago event.
---
Future Prospects: Healthier Buildings, Futuristic Transport
From health-promoting buildings to the long-awaited driverless car—and a bunch of flying ones. Check out the industry's next disruptors discussed at this year's DLA Piper Global Summit.
---
Today's Wall of Capital: Where to Deploy and Why
Finding opportunities is getting more challenging as the cycle advances, but how to navigate this is up for debate. A panel of experts from AEW Capital Management, Green Courte Partners, Harrison Street, Hodes Weill & Associates and Pearlmark Real Estate weigh the options.
---
Staying Disciplined, Hedging Risk in Tomorrow's CRE Financing World
Where is lending headed and what deals are best avoided? These were among the weighty questions tackled by executives from Citigroup, TPG, Goldman Sachs and Blackstone at the summit's second of two sessions on CRE's financial side.
---
The Struggle Between Capital and Interest Rates
At the summit's plenary session, industry veterans from Allianz Real Estate, Blackstone, USAA, Brookfield and Ventas reflected on the relationship between shrinking interest rates and the trainloads of capital looking for suitable opportunities.
---
Proptech Explosion, "Fracking" Are Transforming CRE
The latest in a long series of one-day conferences sped off to a quick start with an in-depth look at some of the technological and demographic trends that are shaking up CRE.
---
DLA Piper Survey: Execs Feel Bullish Again
Executives canvassed by the global law firm are keen on Opportunity Zones, along with logistics and other industrial space.