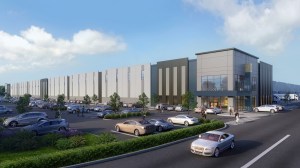 Crow Holdings and Panattoni have received the environmental green light to move forward with FRED310, a 4 million-square-foot industrial development in Frederickson, Wash. The partners secured the requisite State Environmental Policy Act approval for the Greater Seattle area project and will commence construction on the 2.3 million-square-foot initial phase.
Located roughly 40 miles south of Seattle's central business district and approximately 15 miles from downtown Tacoma, Wash., FRED310 is taking shape in industrial-hungry Pierce County. "The FRED310 project is targeting large local, regional and national companies that have limited options for existing product in Pierce County for larger warehouse space," Patrick Mullin, executive director with Cushman & Wakefield, told Commercial Property Executive. Mullin and Cushman & Wakefield colleagues Scott Alan and Connor Cree are overseeing marketing responsibilities for the project and have already landed a major prelease agreement with Floor & Décor, which signed for 1.1 million square feet in Building C in the first quarter of 2022.
---
READ ALSO: The Benefits of Multi-Tenant Industrial Real Estate
---
FRED310 will occupy a rare, 310-acre development site that consists of two parcels at the intersection of Canyon Road East and East 176th Street. Wetlands surround and peeper the site; however, the wetlands enveloping the property will go untouched and a plan is in place for onsite wetlands that may be disturbed during development.
"Mitigation for the direct impacts to the onsite wetlands will be provided through onsite, in-kind compensatory actions," according to the FRED310 Conceptual Mitigation Plan produced by Soundview Consultants LLC. "The proposed project will result in a net gain in ecological functions when compared to the existing degraded conditions of the existing wetlands and associated buffers proposed to be impacted."
The size of things
The first phase of FRED310 will yield four premier facilities, including the approximately 753,200-square-foot Building D, the 437,400-square-foot Building E, the 549,300-square-foot Building F, and Building G, which will encompass 614,000 square feet. The facilities will offer features including clear heights ranging from 36 to 40 feet, large truck courts and ample parking for trailers and automobiles. The site's location will provide tenants with easy access to the Port of Tacoma, which is within 30 miles' reach, in addition to rail, and a bevy of highways.
---
READ ALSO: CRE Investment Volume Climbs 10% in Q2
---
FRED310 is being marketed for lease with spaces as small as 100,000 square feet, as well as for build-to-suit opportunities. "The advantages for new construction in a core market like Tacoma is clear and obvious, including its major port, access to labor and limited land for development," Scott Alan, executive director with Cushman & Wakefield, told CPE. "On both a regional and national level, FRED310 is an important core-plus project that will deliver exactly the type of industrial needs we see needing fulfilled today: clear height, great access, near labor and ports, accessibility, size, trailer parking and more. The decision to build speculative big box warehouses in a core-plus market with today's conditions and demand makes perfect sense."
The industrial market in Pierce County
The industrial market is faring quite well in Frederickson and in Pierce County in general. In the second quarter of 2022, Pierce County recorded strong fundamentals, including robust leasing activity and high tenant demand, according to a report by Newmark. Of Puget Sound's total 2.2 million square feet of positive net absorption in the second quarter, Pierce County was responsible for 1.7 million square feet, or approximately 80 percent.
FRED310, however, isn't the only project that is expanding the Pierce County industrial market with the addition of substantial square footage. In one of the larger completions of the second quarter, the approximately 860,000-square-foot LPC Frederickson One Building 5 delivered, but the project had already been preleased by Amazon Fresh.
"We do not have enough product to meet the demand," Connor Cree, senior director with Cushman & Wakefield, told CPE. "Companies are needing buildings, and the market is not able to deliver big box fast enough to meet the immediate requirement demands. Those who are constructing and completing projects are reaping the rewards."
Some industrial markets across the U.S. may be riding a boom and could ultimately become the victim of overdevelopment in the rush to accommodate ongoing demand. However, such will unlikely be the case in Pierce County, according to Cushman & Wakefield. The brokers believe that the strength of the Pierce County industrial market is a long-term condition.
"Big box distribution and manufacturing space, specifically state-of-the-art new construction, will continue to have great success over the coming years," Mullin notes. "Class B and C warehousing will start to feel pressure due to some of the market headwinds that are taking hold of our economy. However, new modern warehousing, especially that can deliver size and location, will continue to see the greatest demand."