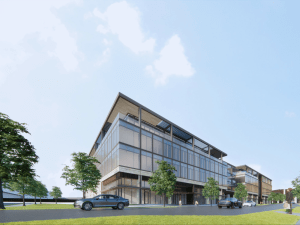 A 150,000-square-foot speculative office building set for groundbreaking within the next few months will be the first of 700,000 square feet of office space to be constructed at Wildhorse Village, a $500 million, mixed-use development planned for Chesterfield, Mo. The 80-acre project in a west St. Louis suburb will be the largest mixed-use development in Chesterfield and is expected to take three years to build out.
---
READ ALSO: What's Ahead for Office in 2022
---
The spec office building, which is scheduled for completion in late 2024, has already attracted significant interest, said Jeff Tegethoff, operating partner at St. Louis-based CRG, which is developing the project. In partnership with CRG, Wildhorse Village was designed by Lamar Johnson Collaborative, a subsidiary of CRG's Chicago-based parent company Clayco that is constructing the development's infrastructure. Residential components will be developed by CRG in partnership with other real estate development firms, while commercial offerings will be developed by CRG and constructed by Clayco.
About $40 million in infrastructure, including roads, sidewalks, pocket parks, walking and bike trails, are expected to be completed by Clayco this month. The infrastructure also included lighting, landscaping and expanding public utilities. The bike and walking trails will circle a 15-acre lake. The waterfront will be open to the public and also feature a plaza, boardwalk, boathouse, amphitheater and public art.
Work-from-Home impacts
The live/work/play community will have approximately 800,000 square feet of commercial space with 700,000 square feet planned as office and the remainder as retail, including a grocer, and restaurants. The original plans called for about 1 million square feet of office but Tegethoff said the office space was trimmed back due to changing market conditions caused by the pandemic and more reliance on work-from-home options.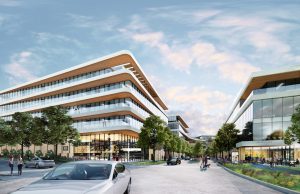 The office space will be for lease or build-to-suit and range from 20,000 to 350,000 square feet, according to the CRG website. The office buildings will have the latest in health, safety and wellness enhancements and offer tenants campus settings in a newly built, walkable urban community. There will be access and visibility from Interstate 64 and U.S. Route 40.
Tegethoff told Commercial Property Executive CRG is replacing two lakefront office buildings with four buildings each containing 16 condominium units. They will be part of the residential options at Wildhorse Village that will include 500 apartments in two luxury apartment communities, a total of 104 condominiums, 72 townhomes and 35 single-family residences. Tegethoff said the single-family homes and townhomes for sale will start vertical construction in February and the first 64 condo units in the spring, possibly as soon as April.
"We are looking out about a year before people start moving in," he told CPE.
CRG recently sold 4.9 acres to Pier Property Group, which will construct The Flats at Wildhorse Village, a four-story, 266-unit luxury apartment building at 350 Wildhorse Lake Blvd. Development is expected to begin in the first quarter and be finished by summer 2023. The building will have studio, one-, two- and three-bedroom units.
Chesterfield deals, developments
CRG already has a significant presence in Chesterfield, with more than 100 acres of development in place. Tegethoff, who joined CRG in April 2020, had built the $80 million WildHorse mixed-use development in Chesterfield through his firm, Tegethoff Development, which previously had operated as Pearl Cos. Announced in 2019, the project was completed last year and includes a 188-unit luxury apartment complex, 128-key hotel due to open soon, and restaurant and retail space including Ruth's Chris Steakhouse.
Also in 2019, Gershman Commercial Real Estate and BurkHill Real Estate LLC acquired an 18-property, 850,000-square-foot portfolio from Sachs Properties in a complex transaction that saw the partners' total investment in the properties exceed $100 million including purchase price and planned capital improvements. The portfolio had been assembled over 50 years by the family-owned Sachs Properties and consisted of 13 multi-tenant office buildings, four retail/restaurant properties and one industrial/warehouse facility.