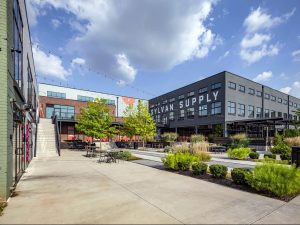 CBRE Investment Management has acquired Sylvan Supply, an adaptive reuse property 4 miles from downtown Nashville, Tenn. The firm bought the shares off the developers, FCP and Third & Urban, on behalf of its investment fund. CBRE paid $87.5 million for the redevelopment, Nashville Business Journal reported. A Cushman & Wakefield team represented the sellers in the transaction.
The partnership kicked off the redevelopment in 2018, with the $12.5 million acquisition of the former Madison Mill at 4101 Charlotte Ave. Centric Architecture was in charge of designing the project dubbed Sylvan Supply. Completed in 2020, the redevelopment yielded 158,000 square feet of creative office space and 35,650 square feet of retail space across eight buildings. After delivery, the partnership received a $53.7 million refinancing for the asset from U.S. Bank, CommercialEdge data shows.
Prior to the sale, JLL oversaw the office space leasing and Equitable Property Co. handled retail leasing. In 2019, Sylvan Supply landed its first tenant, when Accenture signed a 36,400-square-foot lease. The company announced it would relocate 300 of its employees to the new offices. Current tenants at the location include KPFF and ASD | Sky, as well as a number of restaurants, including Red Perch and Bearded Irish Taproom.
Updating the office experience
Despite the challenges brought forth by the pandemic, Sylvan Supply managed to attract demand from both office and retail tenants, resulting in high investor interest, Tom Harris, asset manager for CBRE Investment Management, said in a prepared statement.
Staying competitive in the Nashville office market may prove a difficult feat. With lingering pandemic challenges, the metro still has a long way to recovery. According to the latest CommercialEdge report, office vacancy reached 17.7 percent in December, up 80 basis points year-over-year and 220 points above the national average.
Some developers are responding by shifting from traditional office projects to locations designed for an updated work experience. In November last year, Hines and Barings announced plans for Reed District, a 2.7 million-square-foot, live-work-play destination in midtown Nashville. The project will be designed to meet LEED and WELL-certification standards and will also include the redevelopment of a former Coca-Cola bottling plant.