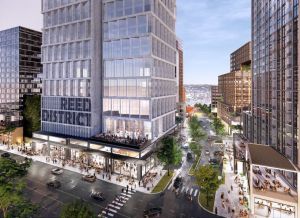 Twelve acres at the gateway to Midtown Nashville are destined to become home to a mixed-use project now that Barings and Hines have joined forces on the acquisition of the site. Together, the joint venture partners will erect the Reed District, a 2.7 million-square-foot, live-work-play destination with a focus on music, art, food and entertainment.
Both Barings and Hines are major proponents of sustainable development, so the Reed District will be a model of environmentally friendly development, and will incorporate ESG-specific features. The partners will target LEED and WELL certifications for the property. Additionally, they will create an activated green space to serve as the anchor of the state-of-the-art project.
---
READ ALSO: $2.5B Waterfront Project Coming to Nashville
---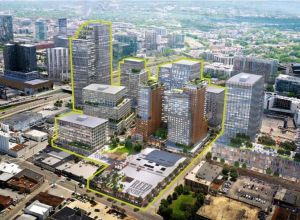 Barings and Hines acquired the dozen acres from the Reed family, longtime owners of the property, for an undisclosed amount. The partners plan to develop the Reed District in phases, with Phase I expected to encompass 800,000 square feet of residential, hospitality and retail offerings, as well as office accommodations.
The 400,000 square feet of next-generation office space will consist of a new 300,000-square-foot high-rise and the most distinctive element of the development, a historic project involving the adaptive reuse of the century-old former Coca-Cola bottling plant. Located at 1525 Church St., the 1920s-era building will be converted into a 100,000-square-foot creative office workspace with added retail offerings.
Office needs in Nashville
Nashville is in recovery mode, but the Midtown submarket is faring better than many others in the metro. According to a JLL report, Midtown posted approximately 20,000 square feet of positive net absorption in the third quarter and average direct asking rents rose to $40.57 per square foot, the highest in Nashville.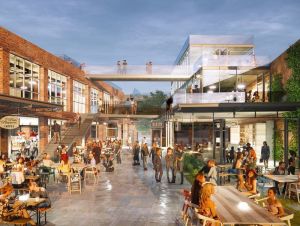 Metropolitan Nashville in general is on the upswing and Midtown will see its good times get even better. "A backlog of transactions patiently awaits the return of greater stability in the market, and absorption will likely pick up significantly once the public health crisis subsides," JLL noted.
Barings and Hines expect to commence construction of the Reed District in the second quarter of 2023.
Nashville is becoming a modern-day, mixed-use mecca of sorts. Southwest Value Partners is hard at work, developing the $1 billion Nashville Yards. In February of this year, at a cost of $450 million, Skanska USA delivered Fifth + Broadway, the largest single-phase, mixed-use development ever undertaken in the city of Nashville at the time. And two weeks ago, at the end of October, Ewing Properties announced plans for Riverside, a $2.5 billion, 5 million-square-foot, live-work-play compound along the Cumberland River. All three projects have notable office components.