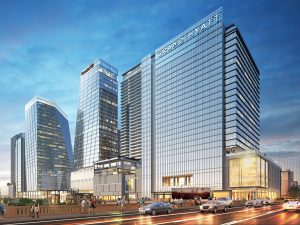 Southwest Value Partners has landed a new tenant at its $1 billion Nashville Yards project. Law firm Bass, Berry & Sims PLC agreed to prelease the top eight floors of one of the office towers, which will become its new headquarters in downtown Nashville.
Southwest Value Partners broke ground on the new high-rise just last month. The tower marks the megadevelopment's first multi-tenant office building.
Executive Vice Presidents Bert Mathews and Shane Douglas of Colliers International represented the tenant in the lease negotiations.
Bass, Berry & Sims' current headquarters is within The Pinnacle at Symphony Place, at 150 3rd Ave. S., less than a mile from its new office. The law firm agreed to lease 180,000 square feet at the Nashville Yards tower.
The multi-tenant office building will rise at 200 10th Ave. N. and offer a total of 650,000 square feet of office space and 28,000 square feet of retail. The design of the tower focuses on energy efficiency and sustainable features. Some highlights include access to a dog park, office valet and executive car services and HVAC systems.
Nashville Yards is located downtown, providing tenants easy access to all that the metro has to offer, including an array of dining, shopping, entertainment and transportation options.
Big plans for downtown Nashville
The 18-acre Nashville Yards mixed-use project was first announced in 2017. Developer Southwest Value Partners is planning more than 3.5 million square feet of office space, 400,000 square feet of retail and entertainment space, 1,000 residential units and hotels totaling 1,100 keys. Last year, the Grand Hyatt Nashville made its debut within the Nashville Yards development, the project's first component to come online.
Two other office towers within the development are currently under construction for Amazon. The e-commerce giant will occupy more than 1.1 million square feet at Nashville Yards, initially announcing it will create some 5,000 jobs. Its first tower landed a $175.5 million construction loan back in 2019, from U.S. Bank. This summer, the 566,000-square-foot tower topped off and is expected to be fully operational later this year.
In June, Pinnacle Financial Partners announced it will also relocate to the 35-story office tower, taking up 95,000 square feet and becoming its first "Founding Partner", as well as the megadevelopment's exclusive banking partner. In September, Southwest Value Partners announced that insurance broker Gallagher also became a "Founding Partner" of the project, which implies various exclusive benefits to contributors.
The Nashville office market reached a vacancy of 17.8 percent as of August, a CommercialEdge report shows, up 750 basis points year-over-year. The Nashville Yards project is taking up a significant portion of the overall office pipeline, which was at 3.1 million square feet in August.
Earlier this year, Skanska completed work at Fifth + Broadway, a $450 million mixed-use project also in the metro's downtown area. In February, Amazon announced plans to open its eighth fulfillment center in Tennessee, a 635,000-square-foot facility that will break ground in 2022.