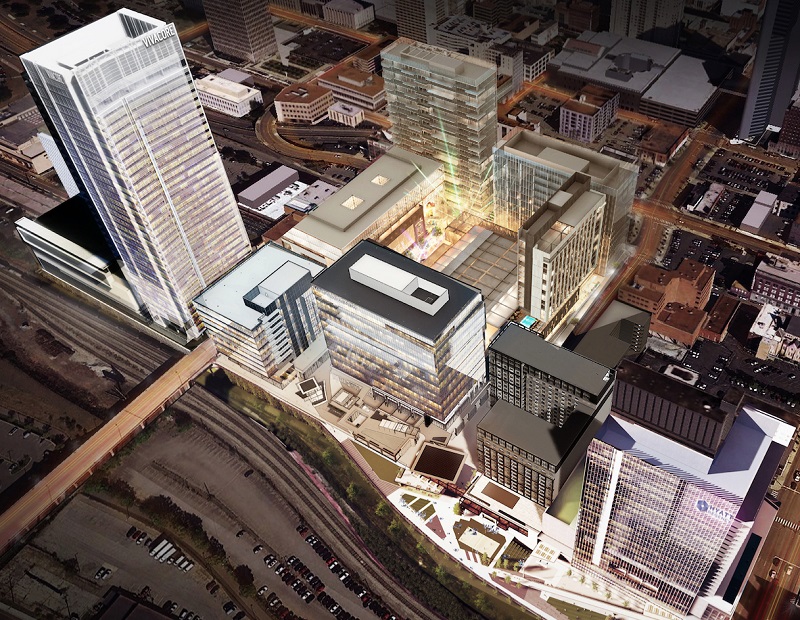 U.S. Bank has provided Southwest Value Partners with a $175.5 million construction loan to develop Amazon's operations center at Nashville Yards in Nashville, Tenn., per documents recorded with Davidson County. The mortgage, one of the largest in the city's history, will also fund the development of an 11-story parking garage in addition to the office component. In July, the tech behemoth leased approximately 500,000 square feet of the 566,000-square-foot tower, according to Bisnow.
Amazon announced its intention to launch the operations center at the same time it declared Arlington, Va., and New York City the winners of its year-long search for a site of the much-coveted HQ2. While the firm eventually backed away from New York, plans for Nashville and Arlington continue to move forward.
Amazon's 20-story tower, located at 1001 Church St., is anticipated to open in 2021. Plans for the larger, 15-acre mixed-use Nashville Yards development call for more than 3.5 million square feet of Class A office space, upwards of 1,000 multifamily units and 400,000 square feet of retail and entertainment space, in addition to an estimated 1,100 guestrooms. Gresham, Smith and Partners is providing architectural services for the redevelopment of the district, a former rail yard. Southwest Value Partners has selected a joint venture between Clark Construction and BELL & Associates Construction as general contractors.
The tech giant intends to employ 5,000 office workers in the building, estimated to rank the company among Nashville's top 10 employers. In addition to its lease at the newly funded development, Amazon has retained the right to expand into a second, similarly sized high-rise planned near the first.