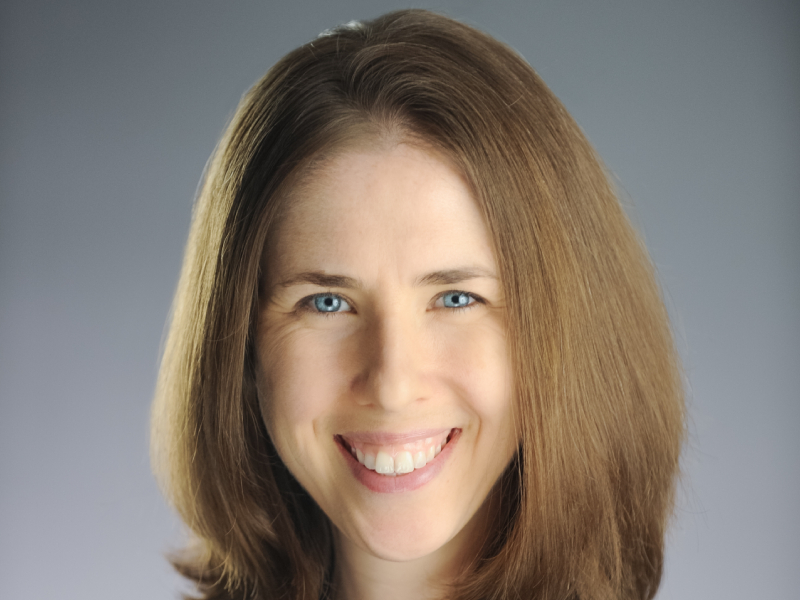 Transformative was the word that came up most often as commercial real estate executives from New York City to Northern Virginia—and in a surprising twist, Nashville, Tenn.—spoke about the impacts e-commerce giant Amazon will have on their communities as it sets up two East Coast headquarters and an operations center beginning in 2019.
While rumors that Amazon was splitting its long-awaited $5 billion second North American headquarters between two locations—Long Island City in the New York City borough of Queens and Crystal City in the Washington, D.C., metro area—began circulating last week, there was still anticipation about the announcement that came Tuesday. The two regions will get at least 25,000 jobs each and the third location in Nashville will be a new Operations Center for Excellence with about 5,000 jobs in the company's customer fulfillment, transportation and supply chain.
"Twenty-five thousand jobs instead of 50,000 is certainly different but it will still have a direct impact on Crystal City and the neighboring submarket, the RCB Corridor," Transwestern's Elizabeth Norton, managing research director for the Mid-Atlantic Region, told Commercial Property Executive. "It's still an economic win for Arlington County and the region as a whole to attract that many jobs."
Colliers International's Michael Cohen, president, tri-state region, in Manhattan, said the Long Island City choice took him by surprise. "What makes it so interesting to me is that so many of us just assumed Amazon would not come to New York," he told CPE. "I don't think there is any way to look at this as anything other than fabulous news for New York City and fabulous news for the borough."
In Nashville, broker Chad Grout said the news it was getting a $230 million consolation prize—the operations center—was a surprise as well. Amazon will create 1 million square feet of office space at Nashville Yards, a $1 billion, 15-acre mixed-use development under construction between Church Street and Broadway near the downtown. It's the largest jobs announcement in Tennessee history and Grout said it will place Amazon among the city's top 10 employers.
"It's nothing short of an economic meteor right in the heart of downtown Nashville," said Grout, principal at Urban Grout Commercial Real Estate. "It will have a tremendous influence on vacancy rates, on neighborhood development and on multifamily and residential growth."
"Amazon's decision to bring 5,000 highly skilled jobs to Nashville speaks to the quality and appeal of the city," added Erik Weinberg, senior vice president of commercial investments at FCP, a real estate investment firm redeveloping the former Madison Mill into Sylvan Supply, retail and creative office space, along with Third & Urban.
Tech talent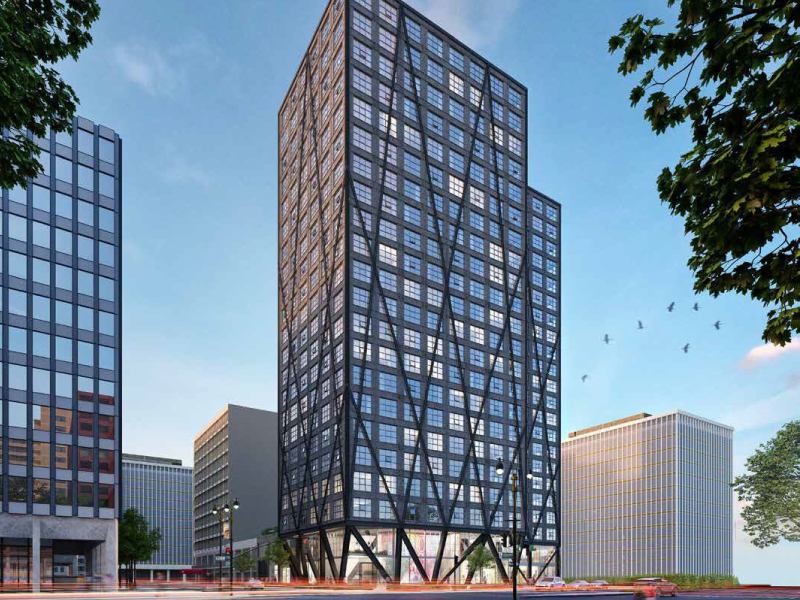 In announcing the two HQ2 sites, Jeff Bezos, founder & CEO of Amazon, said New York City and Northern Virginia would allow the company to attract world-class talent. Cohen said that may have been one of the deciding factors in New York's favor, as it has been a growing tech center for several years. "They felt they could be a catalyst, putting that workforce, those thousands of jobs in Long Island City, and it could be transformative," Cohen said.
Leslie Himmel, co-managing partner of Himmel + Meringoff Properties, a privately held New York real estate company that owns assets in Manhattan and two buildings in Long Island City, agreed with Cohen. "It's definitely going to change the entire neighborhood and it's going to mushroom," said Himmel. She expects Amazon to have the same "spillover effect" on Long Island City that Google did when it bought 111 Eighth Ave. in Manhattan's Chelsea neighborhood in 2010. "It's such an important market leader that I believe you will have other tech companies that will want to congregate near Amazon," Himmel said.
It's already affecting the office market in the area. Savanna, owner of the iconic 50-story One Court Square tower in Long Island City, confirmed it was leasing about 1 million square feet of office to Amazon. The space will be vacated early by Citigroup, which had planned to move most of its workforce out of the 1.5 million-square-foot building by 2020.
It was unclear how long the lease will be but Amazon also plans to build new office space. Amazon is expected to invest about $2.5 billion and create 4 million square feet of office space with the possibility of expanding to 8 million, which will be constructed on the waterfront on publicly owned and privately owned sites. Amazon is expected to begin by building at least 1.5 million square feet on the publicly owned sites, which it is leasing for 99 years at $850,000 a year, according to the New York Post. It has also bought three parcels from Plaxall Realty, the Post reported.
Amazon could eventually expand up to 8 million square feet and add as many as 40,000 jobs for an investment of approximately $3.7 billion over 15 years. The company is expected to add estimated tax revenue of more than $10 billion over the next 20 years, due to its investment and job creation.
But the deal also comes with state and city incentives valued at up to $2.5 billion, including $1.5 billion in direct incentives based on Amazon creating 25,000 jobs. It includes a refundable tax credit through New York State's Excelsior Program of up to $1.2 billion based on a percentage of the salaries, averaging more than $150,000, which works out to $48,000 per job for 25,000 jobs. It also includes a $325 million cash grant from Empire State Development based on the square footage of buildings occupied in the next 10 years. Amazon is also expected to receive $897 million in funds from New York City's Relocation and Employment Assistance Program and $386 million in 15-year tax abatements under the city's Industrial and Commercial Abatement Program (ICAP), according to the Post.
Economic handouts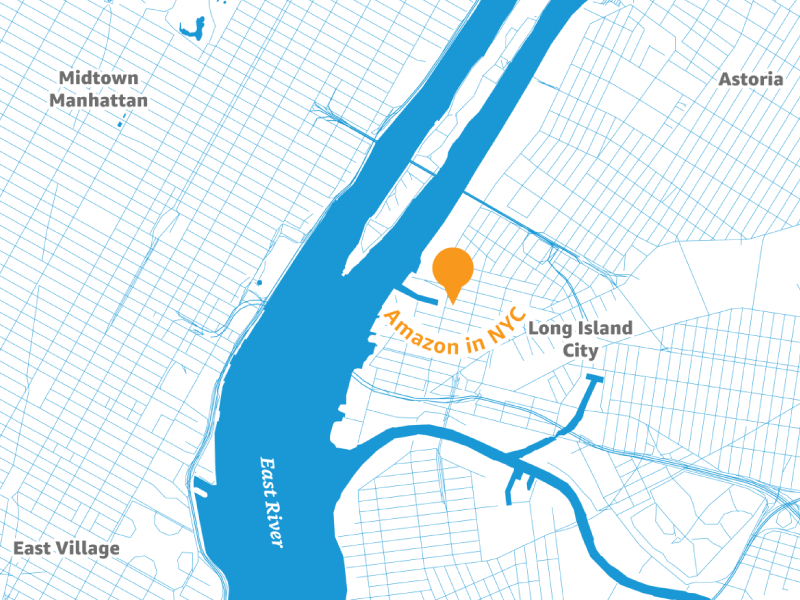 Numerous politicians are pushing back against the incentives, including Corey Johnson, speaker of the New York City Council, who questioned why "a company as rich as Amazon would need nearly $2 billion in public money for its expansion at a time when New York desperately needs money for affordable housing, transportations, infrastructure and education."
Heidi Learner, chief economist at Savills Studley, noted there aren't many penalty measures if Amazon doesn't follow through its promises. However, she said, the agreement does "state very clearly the ability to claw back some of the incentives if Amazon doesn't meet the job or investment targets." Learner added she was surprised by "the magnitude of the incentives." She noted, for example, that in the first quarter of this year Empire State Development issued a total of $157 million in incentives to 110 companies. She also pointed to an issue others have raised—the incentives in New York work out to be about $48,000 per jobs versus $22,000 per job in Virginia.
National Landing and Arlington details
Amazon said Virginia and Arlington County will benefit from an estimated $32 billion in tax revenue over the next 20 years. The company will receive performance-based direct incentives of $573 million, including $550 million based on $22,000 for each job created over the next 12 years. The company will also receive $23 million from Arlington over 15 years based on the incremental growth of the existing local Transient Occupancy Tax, a tax on hotel rooms.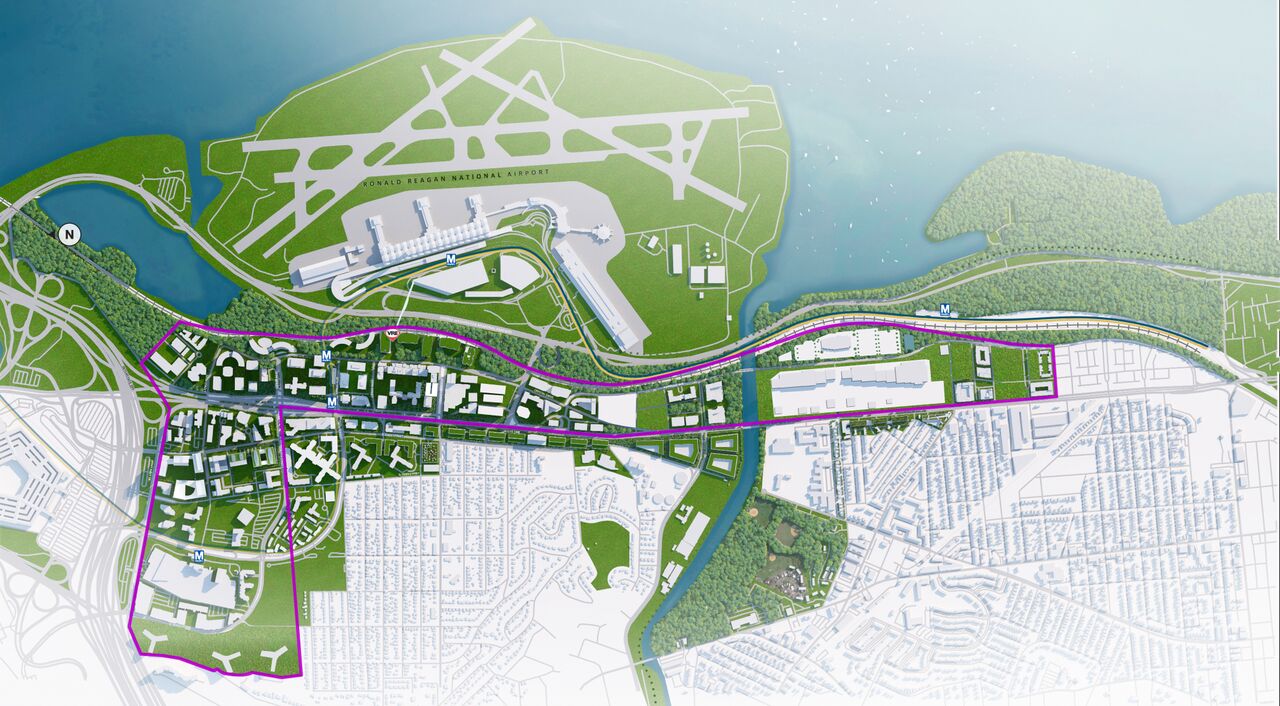 Meanwhile, the Commonwealth of Virginia is investing $195 million in infrastructure in the neighborhood which is now being called National Landing, including improvements to the Crystal City and the Potomac Yards Metro stations, a pedestrian bridge connecting National Landing and Reagan National Airport, and work to improve pedestrian crossing on Route 1 over the next 10 years. Arlington will also dedicate an estimated $28 million earned from an existing Tax Increment Financing district for infrastructure and open space in National Landing.
Norton, who co-authored a joint study with Sage Policy Group on the impact of the decision on Crystal City, noted the region should still get nearly 19,000 additional indirect and induced jobs over three phases of the Amazon rollout. With 82 percent of those jobs being office-based, the Crystal City/Pentagon City and RCB Corridors will see office market vacancy decreases and rent increases. The report notes the overall vacancy rate for the Crystal City/Pentagon City submarket will likely decrease to 7.2 percent by the end of Phase 3, from 15.5 percent, while rents could rise by 4 to 5 percent annually. In the RCB Corridor, the overall vacancy rate will likely decrease to 16.1 percent by the end of Phase 3, from the current 20.3 percent, and rents are projected to rise 2 to 3 percent annually.
Amazon selected JBG Smith, a leading owner and developer of mixed-use properties in the region that owns 6.2 million square feet of existing office space in National Landing, as its development partner. JBG Smith will also be the property manager and retail leasing agent at National Landing, which it is describing as a "newly defined interconnected and walkable neighborhood that encompasses Crystal City, the eastern portion of Pentagon City and the northern portion of Potomac Yard."
The deal calls for Amazon to lease about 500,000 square feet of existing office space at 241 18th St. S., 1800 S. Bell St. and 1770 Crystal Drive. It will purchase Pen Place and Met 6, 7, 8 land in the JBG Smith development pipeline that has a potential density of 4.1 million square feet. Construction is expected to begin next year on the new office space.
JBG Smith CEO Matt Kelly said the partnership with Amazon will "breathe new life into a market that is still recovering from the headwinds of BRAC, the global financial crisis and sequestration. As a growth engine, we expect Amazon to lead to the healthy diversification of the local economy and catalyze the development of a technology ecosystem that has long searched for its footing in the D.C. region."