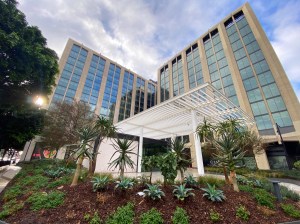 Los Angeles's California Market Center has fully opened in the city's downtown, with its second phase now complete. Developer Brookfield Properties announced it has finished the $250 million mixed-use project after three years of redevelopment work and signed athletic wear giant Adidas as the property's anchor tenant.
Spanning an entire block in downtown's Fashion District at 110 E. 9th St., California Market Center's reimagined form comprises three buildings totaling 1.8 million square feet. The complex has 1.5 million square feet of office space, about 150,000 square feet of retail space, while the rest is designated for event space, outdoor areas and showrooms. Gensler and Turner Construction served as the developer's partners in the project, providing architectural, design and construction services.
---
READ ALSO: Los Angeles' Top 5 CRE Stories of 2021
---
In 2017, Brookfield Properties acquired a controlling interest in the single-asset entity that owned the property, for $440 million, according to CommercialEdge. Originally constructed in the 1960s as California Mart, the complex served as a fashion industry landmark for decades.
The owner first unveiled plans for the redevelopment in 2018. In December 2019, the property's owner obtained a $433.1 million construction loan provided by Bank OZK and originated by Starwood Capital Group, CommercialEdge data shows.
CBRE is the leasing manager for California Market Center and represented Brookfield in the agreement, while a Colliers team negotiated the 107,000-square-foot lease on behalf of the apparel manufacturer. Adidas will occupy the top floors of the A and B office buildings, as well as a private, 5,000-square-foot Skydeck.
Reimagined purpose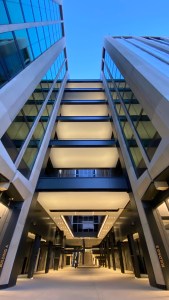 The twin 13-story office buildings represent the second and final phase of development. Lease arrangements can reach up to 131,000 square feet of contiguous space, as all buildings are interconnected by skybridges.
Building C came online in March 2020 and is targeted toward fashion tenants and showrooms, while also offering office space. Upgrades included a façade rework, which now features floor-to-ceiling, energy-efficient windows. Tenants also have access to updated event space, a renovated parking garage, 12-foot-high open ceilings, as well as the site's numerous dining, shopping and entertainment options.
Brookfield also signed a lease agreement with Urbanspace, which creates immersive public markets. The company agreed to occupy 15,000 of the 150,000 square feet of ground-floor retail at California Market Center. Urbanspace will offer a mix of 19 local food and beverage vendors. The developer also plans to add a 15,000-square-foot, tenant-only fitness center, as well as an outdoor basketball court to the project.
California Market Center has been redesigned to appeal to a wide variety of tenants, including those in the tech, entertainment and media industries, according to prepared statements by Bert Dezzutti, an executive vice president with Brookfield.
Office construction in downtown Los Angeles is mostly made up of similar projects, CommercialEdge data shows. Over 1.1 million square feet of office space is currently under construction in the metro's CBD alone. The largest of these is Waterbridge Capital's 801 S. Broadway, at 969,500 square feet.
Vacancy in core urban submarkets struggled last year, as tenants sought to downsize footprints or made other arrangements in the wake of the global health crisis. In the CBD, the vacancy rate reached 15.4 percent as of December, up 40 basis points month-over-month, according to CommercialEdge.
Brookfield Properties is one of Los Angeles' top office landlords, with a footprint of more than 11.2 million square feet. Last year, the company received a financing package totaling $465 million for its Gas Company Tower, a 1.3 million-square-foot office building also situated downtown, at 555 W. 5th St.