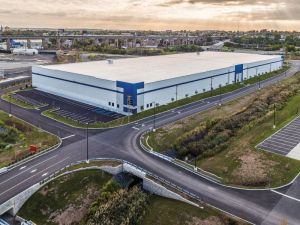 Bridge Industrial and the Public Sector Pension Investment Board, one of Canada's largest pension funds, are expanding their partnership with a new joint venture to invest at least $550 million and possibly as much as $1.1 billion in U.S. industrial assets.
Bridge and PSP Investments previously teamed up in May on a $1.4 billion joint venture to acquire and develop last-mile logistics properties in London and the U.K.
Under the new joint venture, the partners have allocated $550 million in equity with an option to re-up for a further $550 million, to bring the commitment to $1.1 billion. The joint venture is deploying a build-to-core strategy in supply-constrained markets in the U.S. to create more warehouse space needed to support the global shift to e-commerce.
---
READ ALSO: What to Expect From the Industrial Sector in 2022
---
The joint venture was seeded with two industrial buildings in New Jersey and Los Angeles, both examples of Bridge's business model of targeting U.S. coastal regions that serve as major conduits of international goods. The size and locations of the two properties were not disclosed.
Steve Poulos, founder, CEO & partner at Chicago-based Bridge Industrial, called the joint venture an exciting expansion of their successful partnership and said in a prepared statement he looked forward to growing a portfolio of build-to-core industrial properties with PSP Investments.
Carole Guérin, managing director, head of Americas, Real Estate Investments, at Montréal-based PSP Investments, cited Bridge Industrial's proven expertise in developing modern facilities in key U.S. markets.
Since its inception in 2000, Bridge has acquired and developed more than 67 million square feet of industrial buildings and projects valued at more than $12.1 billion. The firm focuses on the supply-constrained core industrial markets of Chicago, Miami, New York/New Jersey, Los Angeles, San Francisco, Seattle and London.
Guérin said in prepared remarks the partners are strategically aligning to leverage the transition to e-commerce with high-quality properties that provide jobs in local communities while incorporating sustainable design features.
Earlier deals
PSP Investments isn't Bridge's only Canadian investment partner. In late December, the company formed a $1.1 billion partnership with Canada Pension Plan Investment Board to develop industrial properties across the U.S. The partners' first venture is a 175-acre, 2.6 million-square-foot industrial campus in Doral, Fla., where six state-of-the-art warehouses are planned. CPP Investments will own a 95 percent stake in the joint venture and Bridge will own the remaining 5 percent.
In another industrial-related move announced this month, Bridge acquired Pompano Beach Commerce Park, a 336,852-square-foot, three-building campus in Pompano, Beach, Fla., for $46.3 million from Redfearn Capital, according to Broward County records. Bridge plans to renovate and upgrade the industrial park located less than 40 miles from the Port of Miami.
On the West Coast, Bridge broke ground on a 150,548-square-foot distribution center in Santa Fe Springs, Calif., in November and is expected to complete the project in the first half of this year. The Class A facility will be the fourth in an industrial park the company developed in 2018.