By Gail Kalinoski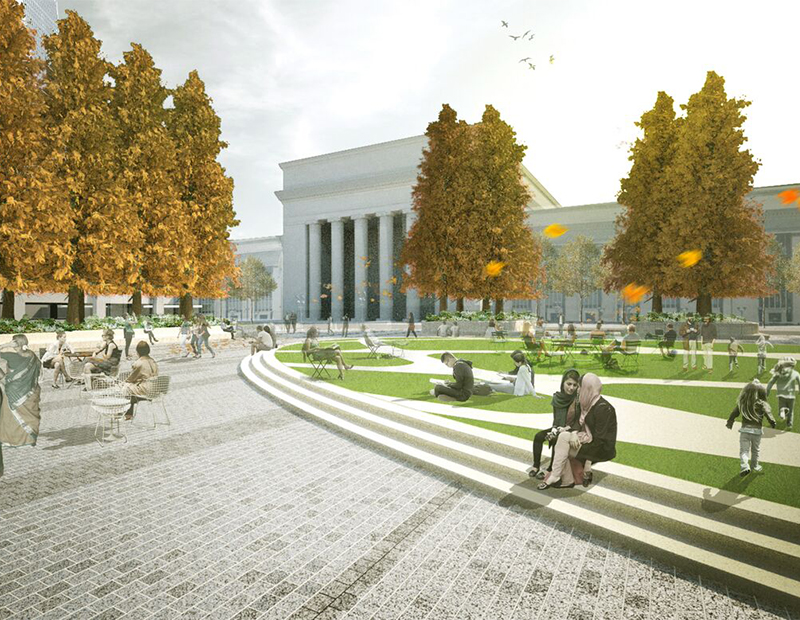 Brandywine Realty Trust, in partnership with Drexel University, has begun construction on the first project of the $3.5 billion mixed-use, master-planned Schuylkill Yards, a 14-acre development in West Philadelphia. Drexel Square, a 1.3-acre community park, will be built at the corner of 30th and Market streets with completion set for late 2018.
Brandywine will begin construction on the first phase and the whole project is expected to take 15 to 20 years to build out. The first phase will comprise 4.6 acres of entrepreneurial space, educational facilities, research laboratories, corporate offices, residential and retail spaces, hospitality venues and open public spaces. Once the park is completed, it will be followed by the redevelopment of the former Bulletin Building and development of two towers at 3003 JFK Blvd. and 3025 JFK Blvd. 
The groundbreaking comes nearly two years after Brandywine, one of the largest public REITs in the United States, and Drexel University, a private, nationally-ranked research university with more than 24,000 students, announced their partnership on the multi-year, master-planned project. The site is next to Drexel's main campus and adjacent to Amtrak's 30th St. Station and Brandywine's Cira Centre South, which includes the FMC Tower, a 49-story, 730-foot tall luxury mixed-use skyscraper where Brandywine has its corporate headquarters.
Jerry Sweeney, Brandywine president & CEO, said the groundbreaking represents the "first steps in making this large-scale innovation community a reality."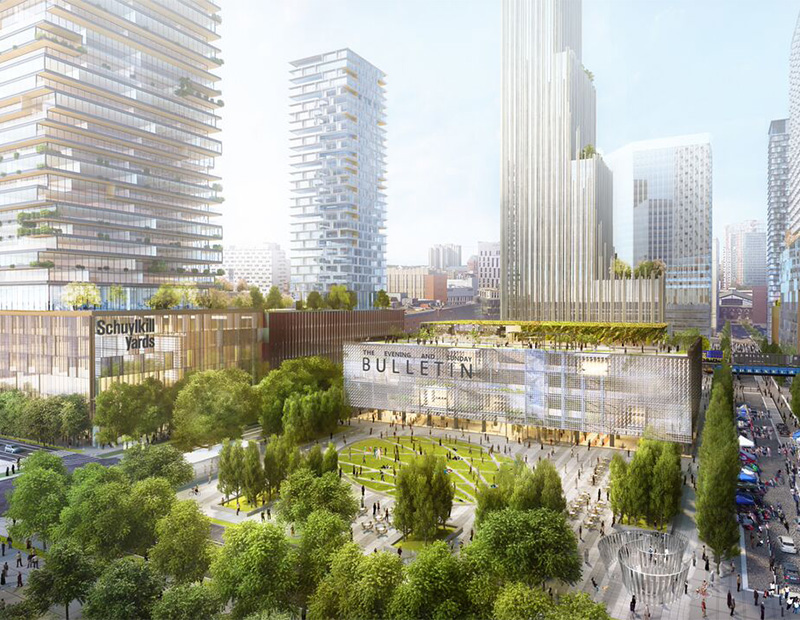 The space—designed in partnership with planning and design firms SHoP Architects and West 8 Landscape Architects—is the first portion of the 6.5 acres of greenspace and improved streetscape planned for Schuylkill Yards. Shop Architects is responsible for the district planning and development of architectural standards for the entire project while West 8 Landscape Architects is in charge of the public realm plan and development of landscape standards. Brandywine is the master developer and is joined on the team by residential developer Gotham Organization Inc., and life-sciences developer Longfellow Real Estate Partners, which will create best-in-class life science labs and office space.
The development is designed to unite Philadelphia's Center City with the medical, life science and educational elements of University City by creating a hub of innovation, technology, talent, culture and growth. 
Possible Amazon HQ2 Site?
The developers and officials present at the groundbreaking made no secret of their desire to use Schuylkill Yards as a way to lure Amazon to West Philadelphia to set up its second headquarters, according to local media reports. Late last month, Amazon said it had received 238 proposals from cities, states and regions across North America vying for a $5 billion investment that could bring 50,000 jobs with it.
"As Brandywine continues to expand the West Philadelphia skyline, we do so with a forward-thinking, inclusive approach to the future. We embrace the changing habits of how people are living, creating, working and spending their time. We are proud that our first project in Schuylkill Yards will deliver a green public gathering space where the community can connect, interact and share experiences," Sweeney said in a prepared statement.
Drexel University President John Fry called Drexel Square the "keystone to the larger transformative development at Schuylkill Yards, conceived by Drexel University and brought to life through a partnership with Brandywine Realty Trust."
Images courtesy of Brandywine Realty Trust