By Keith Loria, Contributing Editor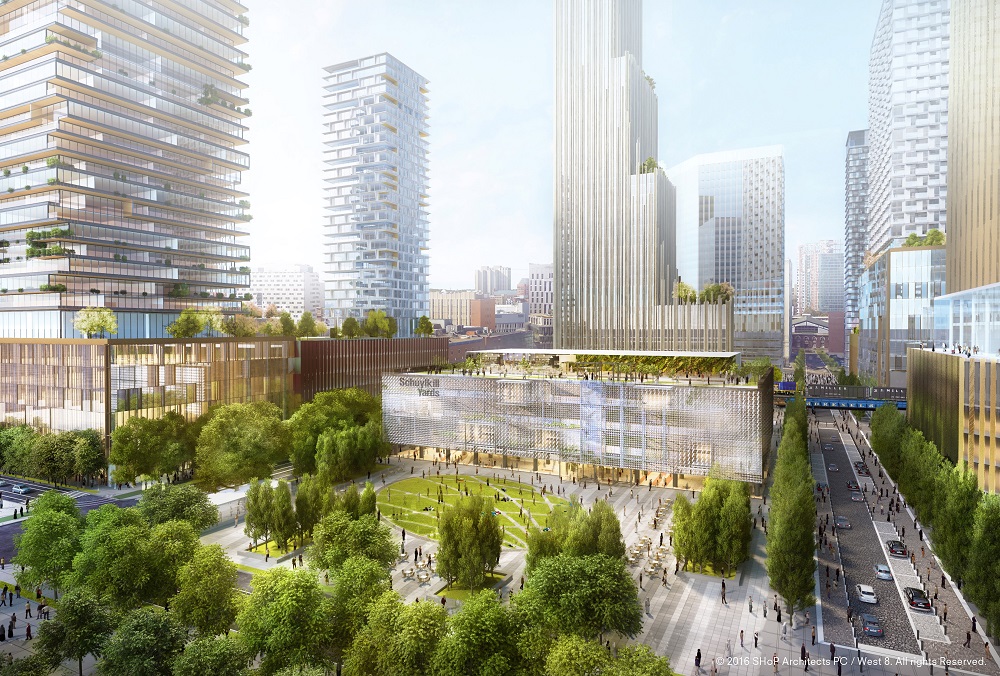 Philadelphia—Drexel University and Brandywine Realty Trust are partnering to create Schuylkill Yards, a 14-acre master planned community in Philadelphia that will act as an innovative community.
"Schuylkill Yards will be a community, not a corporate campus," Jerry Sweeney, Brandywine Realty Trust CEO, told Commercial Property Executive. "It will be a fully engaged ecosystem where magnificent physical spaces are simply the framework to accelerate intellectual creativity, academic research, commerce and community engagement."
Expected to be developed over the next two decades, Schuylkill Yards will consist of 5 million gross square feet of mixed-use real estate on a 10-acre site next to Drexel's main campus and adjacent to Amtrak's 30th Street Station and Brandywine's Cira Centre.
"Philadelphia has a rising reputation as a center for business, technology, and, of course, higher education and the medical arts," Sweeney said.
The neighborhood will feature entrepreneurial spaces, educational facilities and research laboratories, corporate offices, residential and retail spaces, hospitality and cultural venues and public open spaces.
Drexel University conducted a national search advised by JLL which resulted in the selection of Brandywine Realty Trust as the master developer for the site.
"Drexel has always believed there's a superior use for this unique location—essentially the 50-yard line of the Eastern Seaboard—as a neighborhood built around collaboration and innovation," John Fry, Drexel president, said in a prepared release. "That's why the University assembled these parcels, and the time is right to put this vision into action."
Schuylkill Yards will be the first project in Philadelphia for both firms. According to Sweeney, Schuylkill Yards will undeniably transform Philadelphia's skyline as new towers rise on the west side of the Schuylkill River.
Brandywine and Drexel University jointly selected the design team consisting of SHoP Architects and West 8. SHoP Architects will handle the district planning and development of the architectural standards, and West 8 will be responsible for creating the public realm and development of the landscape standards.
Longfellow Real Estate Partners has been selected by the partnership to create best-in-class life science labs and office space as part of the transformative 14-acre mixed-use collaborative neighborhood.
"Longfellow is honored to have been chosen by Brandywine to help develop the spaces where scientists, executives and other visionaries may very well change the world," Adam Sichol, Longfellow Real Estate Partners managing partner, said. "Like other Longfellow projects, Philadelphia's innovation quarter also does much to weave together the greater community. We look forward to playing a role in supporting this remarkable city and the exceptional companies and individuals who will ultimately make Schuylkill Yards a model of success."