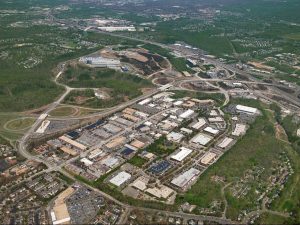 Finmarc Management Inc. has acquired an 11-building portfolio totaling approximately 740,000 square feet of flex office, industrial and data center space in Springfield, Va. After decades of ownership, Boston Properties Inc. sold the assets for $127.5 million.
CommercialEdge data shows 16 office properties encompassing more than 2.2 million square feet have traded in Fairfax County in the first five months of the year. The average price per square foot was $117.17, well below the approximately $172 per square foot shelled out by Finmarc.
Cushman & Wakefield represented the seller in the transaction, while Finmarc opted for in-house representation. The brokerage team included William Collins and Eric Berkman.
The mixed-use business park
The mixed-use portfolio is part of Virginia 95 Business Park, a 127-acre, 16-building complex adjacent to the 2 million-square-foot headquarters of the National Geospatial-Intelligence Agency, according to the Washington Business Journal.
Most of the buildings, ranging between 27,000 to 105,000 square feet, are situated along Boston Boulevard; however, two of them are at 8000 Corporate Court and 8000 Grainger Court. The Class B properties came online between 1982 and 2002.
While more than half of the one- and two-story properties are fully occupied, the campus was 74 percent leased at the time of sale. Finmarc plans to achieve full occupancy through "aggressively marketing" the remaining space while also raising rents to market rates, Co-Founder & Principal David Fink said in prepared remarks.
The tenant roster includes ADT Security Systems, L&E Meridian, U.S. Customs and Border Protection and the U. S. General Service Administration. In May, Boeing announced plans to relocate its headquarters from Chicago to the nearby Arlington, Va.
Situated within a mile of Interstate 95, Virginia 95 Business Park is less than 17 miles southwest of downtown Washington, D.C., where Post Brothers recently purchased two office buildings totaling 659,459 square feet for $228 million. Newmark arranged the deal that marked the buyer's entrance in the metro.
The seller also has expansion plans. In May, Boston Properties paid $730 million for Madison Centre, an office tower encompassing 760,971 square feet in Seattle. The multi-tenant building is LEED Platinum-certified.