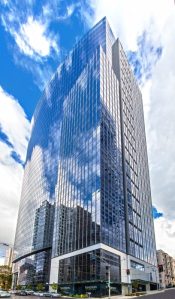 Boston Properties Inc. has bought the 760,971-square-foot Madison Centre office tower in Seattle, for $730 million. A partnership between Barings and Schnitzer West developed and sold the property, while Newmark brokered the sale. The transaction marks the largest multi-tenant office sale in the U.S. so far this year, according to Kevin Shannon, co-head at U.S. Capital Markets.
---
READ ALSO: SIOR Asks: Is This the Great Office Wait or the Great Return?
---
Built in 2017, the Class A office building features 7,799 square feet of retail and is LEED Platinum-certified. Other certifications include Fitwel Built and Fitwel VRM. A terrace, café, conference center and fitness center are among the property's amenities. HVAC air purification systems, bike lockers and locker rooms are also available.
A huge deal in Seattle's CBD
The property features a total of 480 parking spaces, in a 0.6 spaces per 1,000 square feet parking ratio, according to CommercialEdge data. The office tower is 93 percent leased. Tenants at the location currently include Qelp, Ernst & Young, Booking.com and First American Title, according to CommercialEdge data.
Located at 505 Madison St., the office tower is right at the intersection of Fifth Ave. and Madison St., in the city's central business district. Interstate 5 is also less than half a mile east of the property. Several other transportation options are available within a 1-mile radius. The neighborhood also has several shopping, dining and entertainment options.
In February, Boston Properties resumed construction on the first phase of Platform 16, which is slated to include roughly 390,000 square feet of office space in downtown San Jose, Calif. Last summer, the company acquired its first Seattle office property, the LEED Platinum-certified Safeco Plaza.