Boston Properties has agreed to acquire properties across three different metros in separate transactions, for a combined $881.5 million. The REIT is making big moves to expand its life science and office portfolio, with the purchases expected to add approximately 1.6 million square feet of office space to its holdings.
The expansion announcement comes on the heels of the formation of a $2 billion investment platform, comprising Boston Properties, Canada Pension Plan Investment and GIC, Singapore's sovereign wealth fund. The partnership intents to target high-quality office assets in core markets.
In downtown Seattle, Boston Properties has agreed to buy Safeco Plaza, an 800,000-square-foot Class A office tower—currently owned by Vestas Investment Management, CommercialEdge data shows.
The REIT aims to close the deal—its first in Seattle—through a joint venture with one of its co-investment partners, at a gross purchase price of approximately $465 million. Boston Properties expects to retain a 51 percent ownership stake in the venture.
Upon closing, the deal would mark one of the the largest office acquisitions in the metro so far this year, CommercialEdge data shows. At roughly $581 per square foot, the price is also significantly above the average $434 per square foot recorded in year-to-date sales in Seattle. According to CommercialEdge, Safeco Plaza last changed hands in 2016, when Vestas Investment Management acquired the asset for $387 million from The California Public Employees' Retirement System.
A platform for the Seattle market
Safeco Plaza is a 50-story tower situated at 1001 4th Ave. in Seattle's CBD. Constructed in 1969, the office building offers floorplates ranging from 13,485 to 19,686 square feet, conference space, upgraded lobby seating areas, and a parking ratio of 0.8 per 1,000 square feet. The property underwent a $100 million renovation in 2007, according to JLL's website—which serves as the current leasing manager.
At the time of the announcement, Safeco Plaza was 90 percent leased, with an average term of 17 years for the largest tenants. The building is LEED certified at the Platinum level, Energy Star-certified, and comprises a 39,925-square-foot retail component.
Tenants include UW Medicine (55,000 square feet), U.S. Postal Service, IA Interior Architects, and a multitude of law practices, among others, CommercialEdge data shows. The building's location allows for immediate access to public transit options like the Link Light Rail and Metro Bus Lines. Tenants also benefit from proximity to downtown Seattle's shopping, dining and entertainment destinations.
Boston Properties targeted Seattle for its vibrant technology, life sciences, financial services and manufacturing sectors. Safeco Plaza's strong tenant retention and locational advantage provide Boston Properties with a platform for expansion in the metro, noted Boston Properties CEO Owen Thomas in a prepared statement.
Expanding presence
Besides expanding into a new market, Boston Properties has also announced two other deals that expand its presence in core markets. In Manhattan—where the company has a footprint of roughly 8.8 million square feet of office space—the REIT entered into an agreement to purchase 360 Park Ave. S. for approximately $300 million. New York-based private investment firm Enterprise Asset Management, Inc. has owned the building since 1981, CommercialEdge data shows. The building is subject to a $220 million CMBS loan, set to reach maturity next year.
The company plans to fund the deal through the assumption of approximately $202 million of first mortgage debt and by issuing roughly $98 million in Operating Partnership Units. The exact number of OPUs issued at closing will be based on the average closing price per share of Boston Properties common stock for the five trading days immediately preceding the closing date—which is expected to be in December this year.
The 450,000-square-foot, 20-story tower is located at the Southwest corner of Park Avenue South and 26th Street, in Manhattan's Gramercy Park submarket. Constructed in 1913, the building offers 22,500-square-foot floorplates. The new owner targeted the property for the value-add opportunity it presents. Boston Properties is planning a major upgrade of the entire building, aimed to attract technology tenants. The renovation is expected to be completed next year.
Currently, 360 Park Ave. S. is fully occupied by a single tenant, which will vacate the building by the end of the year, after which Boston Properties will begin the renovation. CBRE was tapped to handle leasing operations, according to the property's website.
Among gateway cities, Manhattan's office vacancy was the lowest, having reached 10.4 percent at the end of May, CommercialEdge data shows—the first decrease in vacancy of the year for the borough.
Biotech growth in suburban Maryland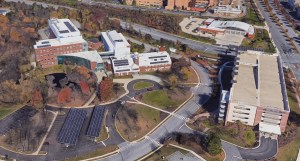 The third deal that Boston Properties announced is the acquisition of a seven-building property in the Shady Grove life science cluster in Montgomery County, Md. The gross purchase price for the Shady Grove Bio+Tech Campus, which totals 430,000 square feet, is $116.5 million.
The property, located at 9600 Gudelsky Drive in Rockville, Md., will be subject to a lab conversion by Boston Properties. Three of the buildings are currently vacant and the new owner will begin their reconstruction after the deal closes in the third quarter of this year. The remaining four will also be redeveloped or converted to target life science or lab use, as soon as they become vacant.
Suburban Maryland's demand for life science space remains strong this year, with a vacancy rate of 7.6 percent in the first quarter, according to a Colliers report. Rockville and North Rockville are seeing most of the leasing and construction activity, with some of the biggest names in the industry present in the market—AstraZeneca, GlaxoSmithKline, Qiagen, and Novavax, among others.
As Montgomery County is home to national public health research and regulatory leadership, as well as more than 400 emerging and established biotech and life science companies, demand for such space is expected to continue to grow. The market had an inventory of 10.1 million square feet of life science space at the end of last year, the same Colliers report shows, with an additional 1.8 million square feet proposed.
Boston Properties is betting hard on the life science sector. The publicly-traded REIT currently owns more than 3 million square feet of such space, with an additional 1 million square feet of lab development and redevelopment projects. Last month, the company completed a $100 million acquisition in metro Boston, adding two buildings to its portfolio that are fully leased by pharmaceutical company Sanofi Genzyme.