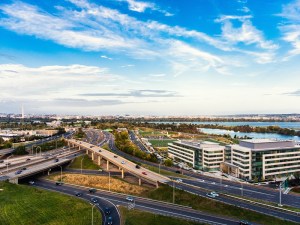 Boeing will relocate its corporate headquarters from Chicago to Arlington, Va., and establish a research and development center there, the company said Thursday.
The move will bring the aerospace and defense giant closer to agencies in Washington, D.C. The move encompasses both the new headquarters and a research and development hub.
Boeing did not immediately offer details about the size or exact location of its new facilities, but the headquarters relocation will considerably expand Boeing's presence in the northern Virginia city.
The company's government operations division is located at 929 Long Bridge Drive, a 453,000-square-foot Class A office property in Crystal City, according to CommercialEdge. The company said that two other business units will stay in their current headquarters. The commercial aircraft division is based in Seattle, and its global services unit is located in Plano, Texas.
Boeing's decision shines an additional spotlight on Arlington as a corporate headquarters location. Amazon is currently developing its second headquarters in the National Landing neighborhood.
It will also end Chicago's run as Boeing's global headquarters. Since 2001, the company's home has been 100 North Riverside Plaza, a 1.2 million-square-foot, 36-story office tower in the West Loop. Changes to office strategies during the pandemic have altered Boeing's need for office space. In a statement, Boeing President & CEO Dave Calhoun cited the company's efforts to operate more efficiently by reducing its office space and dedicating resources to engineering, manufacturing and training.
While stating that the company will continue to maintain a presence in Chicago, the company said that it will reduce its footprint and modernize its space to meet current needs. The company's statement did not address whether 100 North Riverside figures into the plans for its Chicago office space.
Stay tuned to CPE for more on this developing story.