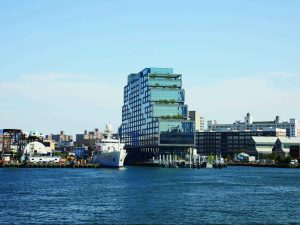 Design and innovation firm Huge is relocating its global headquarters from 45 Main St. to Dock 72, a 675,000-square-foot office building at Brooklyn Navy Yard in New York City.
The company has signed a 12-year, 71,000-square-foot lease with landlords Boston Properties and Rudin Development for the entire 15th floor and a portion of the 14th floor.
The transaction is the largest new office lease in Brooklyn since January. The move is planned in the first quarter of 2023. The new office space will serve as Huge's Global Experience Center and will function like a clubhouse, Mat Baxter, global chief executive officer at Huge, said in prepared remarks.
Other tenants in the building include WeWork, with a lease of 161,620 square feet, CommercialEdge data shows, and Food52, an online cooking and home brand, with 42,000 square feet.
Huge was represented by Winter Stockwell, the company's GVP, Real Estate, as well as CBRE. The team included Cara Chayet, David Hollander, Liz Lash and Ken Rapp. The landlords were represented by Andrew Levin, Senior Vice Present, Leasing at Boston Properties, Robert Steinman, Senior Vice President at Rudin, along with the Cushman & Wakefield team which included Joe Cirone, Ron Lo Russo, Patrick Dugan and Pierce Hance, as well as Sacha Zarba and Freddie Fackelmayer of CBRE.
Recently, the Rudin Family landed $215 million for the refinancing of 3 Times Square, a 950,000-square-foot Midtown Manhattan high-rise.
Dock 72 at Navy Yard
Built in 2019, Dock 72 is a Class A mid-rise office building within Brooklyn Navy Yard, a 300-acre shipyard and industrial campus. The 17-story property offers floorplates ranging from 32,682 to 53,297 square feet and includes 150 parking spaces. The building also features 35,000 square feet of amenity space, including a rooftop conference center, ground floor food hall, fitness center, outdoor terrace, open lawn and basketball court. The tenants have access to the Dock 72 mobile app, which facilitates access to the building's office space and amenities, providing real-time transit updates.
Located at 63 Flushing Ave., the property is less than 1 mile from downtown Brooklyn, with a NYC ferry stop close to the office building. It also provides access to Wi-Fi-equipped shuttle service to major subway lines.
Other recent projects at Navy Yard include Building 77, a 1 million-square-foot property next to Dock 72, the redevelopment of Admiral's Row and the expansion of Steiner Studios, a film and television studio.