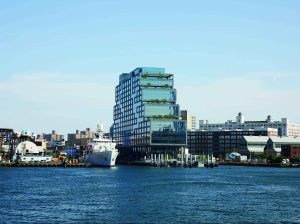 Food52, a food, cooking and home space media company, has announced plans to relocate its Chelsea headquarters to Dock 72, a 675,000-square-foot office building in Brooklyn, New York.
The company has signed a 12-year, 42,000-square-foot lease with landlords Boston Properties and Rudin Development for the entire 13th floor of the 16-story building. Cushman & Wakefield represented both parties in the agreement, while CBRE worked on behalf of the landlords.
The move is slated for the second half of next year, but space redesign has already begun at the new location. The adjustments include new test kitchens and studios, as well as upgrades to the shared amenity areas, Food52 founder & CEO Amanda Hesser said in prepared remarks.
WeWork has been Dock 72's sole tenant, with flex office spaces totaling 220,000 square feet across the third and seventh floors, CommercialEdge data shows. Titan Gray, a risk management agency, Benevolent AI, a medical technology company, and law start-up firm Chatterjee Legal are among the firm's clients.
The Cushman & Wakefield team that arranged the lease on behalf of Food52 included Directors Helen Paul and Rico Murtha. The landlords were represented by Executive Directors Joseph Cirone and Patrick Dugan, and President Ron Lo Russo. The CBRE team included Vice-Chairman Sacha Zarba and Executive Vice-President Freddie Fackelmayer.
In August this year, the Rudin Family closed two leases totaling 72,000 square feet at 32 Avenue of the Americas, a 27-story office tower in Manhattan's Tribeca neighborhood. Rudin Senior Vice President Robert Steinman represented the landlord in both leasing agreements.
Dock 72
Completed in 2019, the property at 63 Flushing Ave. is a ground-up construction originally envisioned as a creative office space. The location offers floorplates ranging between 40,000 to 60,000 square feet, 14-foot ceilings and 35,000 square feet of amenity space including conference centers, a dining area and a gym. Additionally, tenants have access to 16,000 square feet of outdoor space.
Dock 72 is part of the historical Navy Yard, an extensive commercial and industrial area in northwest Brooklyn. Over the last decade, the former shipyard has been master-planned to include office buildings and manufacturing facilities. In 2018, Brooklyn Navy Yard announced a $2.5 billion expansion plan for the redevelopment of three sites, including the location of Dock 72.
Boston Properties and Rudin Development received a $250 million construction loan from J.P. Morgan, M&T Bank and U.S. Bank. for the project.
A long way to recovery
As demand for office space across the U.S. has yet to return to pre-pandemic levels, Brooklyn saw a 4.9 percent drop in listing rates year-over-year through September, according to a recent CommercialEdge report. Nevertheless, rents in the borough continue to be among the highest in the U.S., clocking in at $48.08 per square foot as of September. The figure was topped only by asking rates in Manhattan ($83.52), San Francisco ($69.18) and the Bay Area ($55.79).
The Brooklyn office market however is beginning to show signs of stabilization. Vacancy in the metro stood at 14.9 percent as of September, on par with the national average and up only 100 basis points year-over-year, compared to the U.S. year-over-year average increase of 130 points.