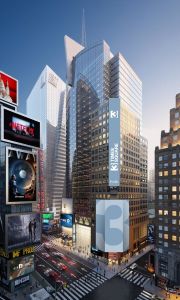 The Rudin Family, owner of 3 Times Square, has secured $415 million for the refinancing of the approximately 950,000-square-foot Midtown Manhattan high-rise. The Rudin Family and its joint venture partner Thomson Reuters obtained the funds from a consortium of lenders.
J.P. Morgan spearheaded the group of financial institutions, which included Bank of America and M&T Bank, that provided the Rudin Family and Thomson Reuters with the refinancing for the property. The funds came in the form of a three-year, floating-rate loan with the option to extend for two one-year periods.
---
READ ALSO: Manhattan's Incoming Office Stock Shrinks
---
J.P. Morgan et al, however, were not the only lenders keen on the opportunity to provide nearly a half-billion dollars for a skyscraper that encompasses 850,000 square feet of leasable office space and roughly 80,000 square feet of ground-level retail in a Manhattan office market that remains far from its pre-pandemic conditions.
"The lending community's strong interest in the 3 Times Square refinancing package is an endorsement of our overall repositioning strategy and leasing program, as well as a commitment to investing in New York City," Neil Gupta, chief investment officer & executive vice president of Rudin Management Co., the operating arm of the Rudin Family holdings, told Commercial Property Executive. The Rudin Family's longstanding relationship with Bank of America and M&T Bank could not have hurt either.
Borrowing on a vision
The Rudin Family and Thomson Reuters co-developed 3 Times Square in 2001 as the headquarters for Reuters Group PLC at a cost of $360 million. A transit-oriented mecca, the 30-story tower stands within walking distance of more than 20 subway and commuter rail lines, to say nothing of bus routes and, of course, bike docks. In 2021, the partners revealed plans for a $25 million makeover and repositioning of the premier property, with architecture firm FXCollaborative at the helm.
The Rudin Family and Thomson Reuters will utilize proceeds from the refinancing transaction to finance the transformation program, which will include such projects as a full lobby renovation, the activation of outdoor space and the buildout of a tenant amenity floor featuring such offerings as a dining area, coffee bar and conference and event center.
Proceeds will also be directed toward the lease-up of the health and wellness-centric building. Already, the in-progress reimagining of 3 Times Square has attracted a major commitment. In January 2022, Touro College and University System signed a 32-year lease for a 245,000-square-foot campus at 3 Times Square. Touro is on schedule to relocate to its new home, with its dedicated entrance and lobby, at 3 Times Square in 2023.