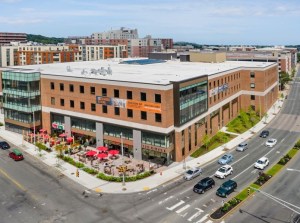 Berkeley Investments is multi-tasking in Malden, Mass., making a handful of endeavors transpire simultaneously in connection to Exchange 200, the real estate developer's 352,000-square-foot mixed-use property in Malden Center, just outside Boston. Berkeley entered into a new equity joint venture with Singerman Real Estate and landed financing, just as it begins construction to convert Exchange 200 into a premier lab and life sciences destination.
"We felt like the stars were aligned to take Exchange 200 and convert it into a modern innovation hub to meet the increasing demand of life sciences, lab and R&D/flex users throughout Greater Boston," Dan McGrath, senior vice president & director of asset management, Berkeley Investments, told Commercial Property Executive. "And the main attractor to this asset is that we can implement all of these upgrades and offer a Class A option at substantial cost savings for prospective occupants and deliver the space in 2022 to meet the needs of tenants who need to occupy space quickly."
---
READ ALSO: New Life (Sciences) for Struggling Office Properties
---
Berkeley relied on the assistance of a JLL Capital Markets team spearheaded by Lauren O'Neil and Coleman Benedict to arrange the financing, which, according to Middlesex County property records, came in the form of an approximately $135.1 million loan through Acore Capital.
Berkeley has owned Exchange 200, sited immediately across from an MBTA station, since 2016, when it acquired the four-story former bank operations center from KBS Real Estate Investment Trust Inc. in a transaction valued at approximately $21.7 million. In 2020, Berkeley completed a comprehensive redevelopment of the property at 200 Exchange St., converting it into the mixed-use asset it is today, featuring desirable office, flex, lab and retail space accommodations. In fact, the building's 15,000 square feet of street-level retail will play an important part in the property's long-term presence in the neighborhood.
"We're not just investing in the building's infrastructure for lab and life sciences uses, we're also investing in the community around the asset," McGrath, said. "It was important for us that our retail footprint at Exchange 200 not only benefit our future prospective tenants, but those residents who live nearby. It was important that our retail and food and beverage options add to the dynamic urban environment that continues to make Malden Center a '15-minute city' where daily necessities for residents and workers are easily accessible by walking or cycling."
Renaissance 2.0
Now Berkeley and its new partner, Chicago-based Singerman, an opportunistic real estate investment firm that boasts the subsector expertise that comes with ownership of a 2 million square-foot life sciences portfolio, dive in for a second transformative project at Exchange 200. After shelling out millions on the first undertaking, Berkeley has no compunction about making another investment in the property's new incarnation.
"It was an easy decision given the dramatic imbalance between supply and demand for life science space in Greater Boston," McGrath noted. "We recognized that we could help push demand for Class A lab space beyond Boston and Cambridge, and it made perfect sense to help navigate that demand to an urban market like Malden Center, just a few miles north of the city. And given that Exchange 200 sits directly across the street from the Malden Center MBTA station and is located in the high-growth Orange Line corridor that is already becoming home to a booming life sciences cluster, it made a lot of sense for us to make this pivot."
The conversion program, the design of which is being led by architect TRIA, will feature a series of upgrades that will elevate the property to Class A lab standards, including state-of-the–art HVAC and MEP systems, emergency generator and a centralized pH neutralization system. The plan also calls for three fully built-out speculative lab suites with vacuum and compressed air systems.
Berkeley and Singerman's new transformation of Exchange 200 into a life sciences address is a timely move. At mid-year, office construction levels were at 20-year highs in metropolitan Boston, with 14.2 million square feet of construction underway and, as an indicator of demand, lab space accounted for 40 percent of that square footage, according to a report by ABG Commercial Realty. However, the total square footage of 12-month office deliveries and product under construction in the Medford/Malden submarket was 0.
"The development's unparalleled transit access is a major asset to a growing number of life sciences companies who are seeking to attract a young, highly educated workforce," McGrath added. "And this property is situated in the middle of this growing population of talented, medical and life sciences professionals who reside in the Malden, Medford and Melrose communities."
Dellbrook JKS is serving as general contractor on the Exchange 200 transformation. The property will be ready to welcome its first tenants in October 2022.