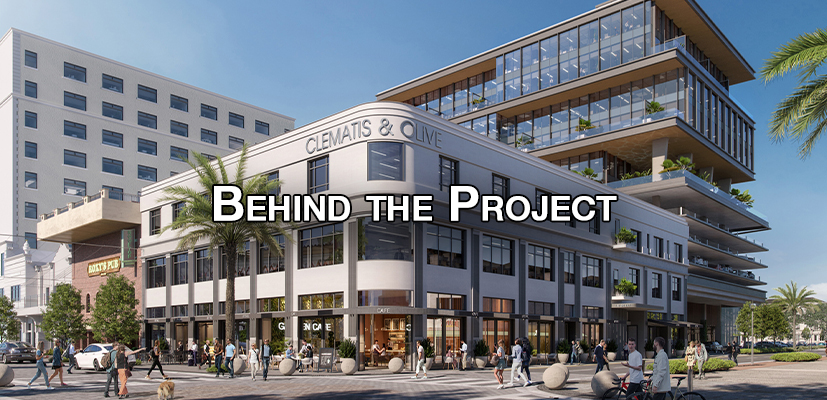 Since the onset of the pandemic, Florida's West Palm Beach has been experiencing an influx of population similar to nearby areas like Miami and Ft. Lauderdale, albeit at a smaller scale. Its growth, paired with a limited real estate supply, has prompted builders and investors to look for various development opportunities in the local market while taking into account functional design schemes.
One of the companies that seized the pandemic-fueled opportunity was homegrown business Brand Atlantic Real Estate Partners. Adam Demark and Managing Partner Andrew Dance started the firm in 2021 and recently launched a new project in West Palm Beach on Clematis Street, in the heart of the city's entertainment district.
The project is the first ground-up commercial building in the city in over 30 years, according to the firm. Located at 300 Banyan Blvd., the building will encompass 140,000 square feet of Class A office space, which accounts for a quarter of the volume underway in the metro as of May, according to data from CommercialEdge. Additionally, the project will include the historic preservation of the site's existing building rebranded as 111 Olive, 15,000 square feet of ground-floor restaurant and retail space, and a 300-space parking garage.
In an interview with Commercial Property Executive, Dance discusses the company's upcoming project, what makes it stand out, as well as West Palm Beach's development outlook.
---
READ ALSO: The Story Behind Florida's Largest Office Complex
---
Tell our readers more about 300 Banyan. What's special about this project?
Dance: 300 Banyan is the first ground-up Class A office space in the Clematis Waterfront District in decades and will be a truly unique addition to the West Palm Beach skyline. The building design is a marriage of design and functionality, employing a rhythm of cantilevered floor plates to create its architectural interest and to provide shading mechanisms for over 25,000 square feet of covered outdoor terraces.
The building's amenities showcase what 'new' office tenants are demanding, what is truly the convergence of highly functional office space with hospitality-driven amenities and services. The 7th floor loggia at 300 Banyan is a great example of this, with a 2,500-square-foot indoor/outdoor fitness center, a covered open-air lounge with landscaping and a reflecting pool, and an expansive event terrace with panoramic water views.
Most importantly, the office floors feature floor-to-ceiling glass with water views and over 15,000 square feet of private office terraces so that our tenants can take their meetings outdoors.
Give us some details about the development team and architects involved in the project.
Dance: Wheelock Street Capital, a Greenwich and Boston-based real estate private equity firm, is our joint venture partner on the project.
The design architect for the project is B+H, an international architecture firm based in Toronto with whom I have worked in the past and knew would be a perfect fit for this project.
Spina O'Rourke + Partners is the executive architect and interior designer for the project. They are the prominent player in West Palm Beach and have been incredible partners through the design, municipal review, and documentation processes.
What challenges have you faced while developing this project and how have you overcome them?
Dance: The biggest challenge facing builders is undoubtedly the escalation of construction costs for everything from steel to plumbing fixtures to labor. This is both a function of increased development activity—and therefore increased demand on contractors and vendors particularly in hot markets like South Florida—as well as the overall impacts of inflation on the costs of goods and services.
These were clearly forecasted issues by the third quarter of 2021, so we made the decision to pivot from our traditional design-bid-build process at that time to a design-build process by awarding bids to subcontractors six months earlier than typical. By October 2021, we had locked in pricing for 60 percent of our trades and secured project slots with key subcontractors. Our construction budget would be 10-20 percent higher if we went out for bids today, so we are pleased with the outcome.
In terms of a development timeline, what phase is the project now and when do you anticipate it will be completed?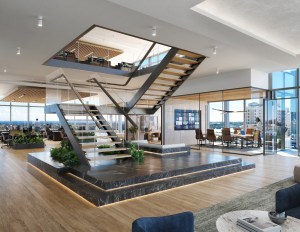 Dance: The development includes two buildings, the gut renovation and repositioning of 111 Olive and the ground-up development of 300 Banyan. Pre-leasing efforts for retail and office space at both projects has commenced. Construction at 111 Olive is underway and delivery is scheduled for January 2023, and we just broke ground on the construction of 300 Banyan which will deliver in January 2024.
What type of tenants are you targeting and why?
Dance: The current wave of office tenants expanding or relocating to South Florida generally remains finance-focused, but the demand is far more diversified than the hedge fund and investment managers that characterized the first wave of the pandemic. We are targeting a tenant base that includes hedge fund and investment managers, investment banks, venture capital funds, fintech companies, and family offices. However, the market is so dynamic that I wouldn't be surprised if we start to see a broader set of tenants scouting for space.
What type of development opportunities are builders and investors eyeing at the moment, given West Palm Beach's growing population and limited real estate supply?
Dance: Investor interest nationally has been focused on the multifamily and industrial sectors, and West Palm is no exception to that. However, there are such intense demands on the local market to grow that we're seeing incredible development volume across the multifamily, condominium, office, retail and hospitality sectors at once.
Tell us more about the changes the West Palm Beach office market has experienced since the onset of the pandemic.
Dance: We've witnessed first-hand the high demand for Class A office space in South Florida amid the continuous migration of investment managers and their families to the area. With announcements from companies including Goldman Sachs, Blackstone, Elliot Management and more to make a substantial commitment in South Florida, this development will be delivering the right product at the right time.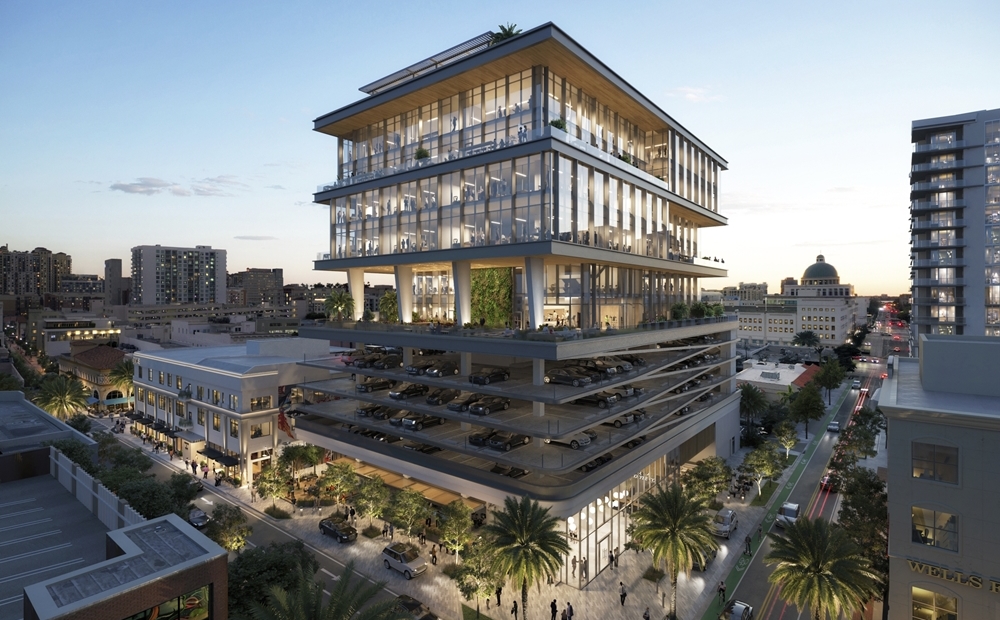 What are your predictions for the West Palm Beach office market going forward?
Dance: West Palm Beach is going to continue to attract tenants at a global level. With so many of New York's most notable schools, restaurants and retail options making the move to South Florida, people will continue to migrate and there will only be more demand for office and mixed-use space in the future.