By Ken Riggs, President, Situs RERC: As uncertainty continues in the global markets, investors will have to get used to managing through the uneven nature of the economy.
By Ken Riggs, President, Situs RERC
Heading into midyear, investors had been looking forward to a stronger, more consistent forecast for the second half of 2016. Instead, we are filled with increased uncertainty, contradictory economic growth indications and dislocation in the capital and real estate markets, topped off by this past weekend's massacre in Orlando and the implications it may have for the political environment and national security. As we look ahead, it appears the rest of 2016 will find investors focused on managing through the lack of confidence, lumpiness and mixed messages being signaled globally. Unfortunately, this is becoming our new normal.
Given the improvement in the housing market and strong auto sales, one would have expected the multiplier effect to take hold, giving the economy strength in numbers and consensus forecast. However, economic growth was less than 1 percent in first-quarter 2016, although consumer spending increased in April by the fastest pace in almost seven years, according to the Commerce Department. Additionally, job growth plummeted to a seasonally adjusted 38,000 in May, the slowest pace in more than five years, according to the Bureau of Labor Statistics, and consumer confidence dipped for the second month in a row.
The capital market in general remains quite disciplined, despite the Federal Reserve's easy money policy for the past eight years. But yields on the 10-year Treasury are not increasing, and regardless of the increase in short-term rates last December and another possible increase later this summer, rates have declined more than 60 basis points over the past year, according to the Treasury Department. This uneven behavior and mixed results across the economy, capital markets and political environment are becoming our new expectation. The question is for how long.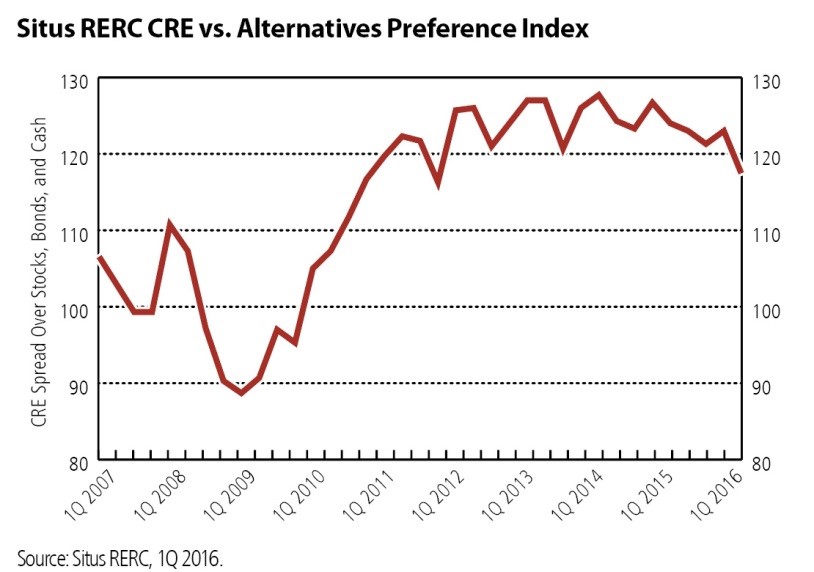 From an alternative investment standpoint, commercial real estate has in recent memory been the go-to investment when uncertainty dominates the landscape. The Situs RERC CRE vs. Alternatives Preference Index demonstrates institutional investors' changing preferences for commercial real estate compared to stocks, bonds and cash (see chart at left). The baseline is 100, which is where investors feel that, on average, they all are equally attractive. A score over 100 indicates investors' preference for commercial real estate, and a score below the neutral point indicates the opposite.
The Index has been trending downward over the past two years, and in first-quarter 2016, the index reading was 117, down from 123 in fourth-quarter 2015. Over time, the high reading (128) occurred in first-quarter 2014, and the low reading (89) occurred during the credit crisis in first-quarter 2009.
According to the Index, investors still prefer commercial real estate over stocks, bonds and cash, but as commercial real estate continues to mature as an asset class, there is less room for capital appreciation. As a result, returns will be increasingly available through rental income only, and while risk-adjusted returns remain rational, total returns for commercial real estate have been declining. Make no mistake—there is a deceleration in this force behind commercial real estate investment pricing and values, as shown by the decline in ratings for commercial real estate over the past year and a half (see chart below).
Even so, investors in commercial real estate are positioned by the nature of the asset class (and maybe some of their own doing) and have a much better chance of navigating through this new normal than do investors in other asset types because:
Short-term interest rates are low, and are expected to remain low for the near term, given recent remarks by Federal Reserve Chairwoman Janet Yellen: "New questions about the economic outlook have been raised by recent labor market data."
Capital investment in commercial real estate hasn't gotten too far ahead of itself from a value and price perspective, except from foreign investment for top-quality properties in New York City, San Francisco, and a few other major markets.
Property fundamentals are strong for most sectors. Rental rates increased for each of the major property types in first-quarter 2016, according to CBRE Econometric Advisors, although vacancy increased slightly for the office and hotel sectors. This is in context of new supply that has been balanced against demand (except for the changing landscape for apartments and hotels).
Situs RERC's required going-in cap rates remain low and are generally stable for all major property types in the institutional market, with the weighted averages at 5.9 percent for the office sector, 6.1 percent for industrial, 5.9 percent for retail, 4.8 percent for multifamily and 5.4 percent for hotel in first-quarter 2016.
If there is one thing investors can count on from the global markets in 2016, it's that uncertainty will continue. And in this kind of environment, managing through the uneven nature of fits and starts is the new normal.