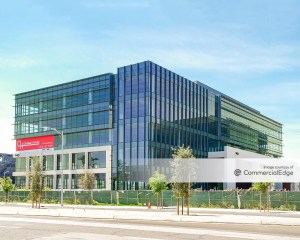 AGC Equity Partners has closed on this year's largest office sale in San Jose, Calif. According to Santa Clara public records, the London-based investor has agreed to pay $780 million for an under-construction three-building office development within Hunter Properties and Sansome Partners' Coleman Highline project.
Public documents indicate that the sale was subject to a loan provided by Barclays and Bank of Montreal. In 2019, the development partners had also obtained a $350 million construction loan for the property, from Wells Fargo Bank, according to CommercialEdge data.
---
READ ALSO: San Francisco Market Update: Prices Tick Down as Deals Boom
---
The three buildings that AGC acquired total approximately 658,000 square feet and will serve as Verizon's Media Division office in the region. The tech company previously announced it expects to house 3,500 employees in the new buildings, which are slated to come online by the end of the year.
The development plans for Coleman Highline call for 1.5 million square feet of office space along Coleman Avenue, within a very short distance of San Jose International Airport and the Interstate 880/State Route 87 interchange. The project also includes three amenity buildings totaling 53,000 square feet, a retail component, a 175-key Element hotel, as well as 1,600 residential units.
Verizon will share the Coleman Highline campus with streaming platform Roku, which leased three buildings to serve as its global headquarters, and 8×8, which was the first to sign on. The buildings occupied by Roku were acquired last year by Blackstone for $275 million, according to CommercialEdge.
Silicon Valley Investments Remain Strong
Investments in Silicon Valley's tech office market have soared this year. According to the latest CommercialEdge office report, the Bay Area market—comprising the East and South Bay—generated more than $7 billion in office sales by the end of the third quarter. The market situated itself at the top for sales activity, with almost triple the amount generated last year during the first three quarters—$2.4 billion.
Life sciences and tech have greatly contributed to this result, with several large deals recorded in recent months, such as KKR's $535 million acquisition of HQ @ First, the previous record holder for the largest sale in the market. The Bay Area will likely continue to see such investments, with YouTube's announcement of a massive expansion in San Bruno, and IQHQ's acquisition of Elco Yards, a 600,000-square-foot, four-building life science development.