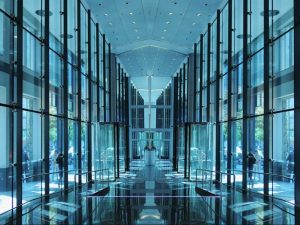 AEW Capital Management has acquired Centro South and North, an office complex totaling 330,000 square feet in East Austin, from its developer, Riverside Resources, according to Travis County records.
AEW financed the purchase of Centro South with a $77 million acquisition loan originated by PGIM Real Estate, set to mature in June 2029. Meanwhile, First United Bank and Trust Co. provided a 5-year, $75 million financing package for the acquisition of Centro North.
In the first five months of the year, Greater Austin office sales added up to an estimated $417 million, according to CommercialEdge. The properties traded for an average $287 per square foot; the price was significantly higher than the ones recorded in other Texas markets such as Houston ($191) and Dallas-Fort Worth ($180). However, the latter two had much larger transaction volumes, exceeding $1.5 billion and $1.8 billion, respectively.
While Austin office transactions have been few and somewhat far in between this year, some deals still grabbed the headlines. Just last month, Arc Capital Partners bought a WeWork-anchored creative office in the city's CBD. JLL arranged the transaction of the 100,166-square-foot building and also secured $39 million in acquisition financing from Grant Street Funding.
A newly built office complex
Riverside broke ground on the project at 1412 E. Fifth St. in 2020 and recently completed Centro South, while Centro North is expected to come online in the next few months, according to ReBusiness Online. The development team also included local landscape architecture firm Nudge Design and engineering company Big Red Dog.
Designed by Gensler, the Class A+, two-building office campus includes approximately 15,000 square feet of ground-floor retail and more than 800 below-ground parking spaces. The five-story buildings feature open-air terraces and meeting spaces, landscaped green areas, an on-site fitness facility, bike storage and electric vehicle charging stations.
Anchored by Australian software company Atlassian, Centro South was 96 percent leased at the time of sale. As of May, the Austin metro's office vacancy rate dropped to 15.6 percent, 20 basis points above the U.S. average, CommercialEdge data shows.