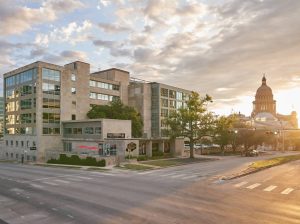 Arc Capital Partners has acquired Westview, a Class A creative office property totaling 100,166 square feet in Austin's CBD. JLL Capital Markets represented the seller, Prescott Group, in the disposition of the six-story building.
JLL also helped secure acquisition financing for the buyer. Arc Capital Partners funded the purchase with a $39 million loan originated by Grant Street Funding, Travis County records show.
The property appraised for $53.9 million last traded in early 2016 when the current seller acquired it from the Texas State Teachers Association, which owned the building since its completion in the 1950s.
The JLL Capital Markets sales team included Senior Managing Directors Andrew Levy and Todd Savage as well as Managing Directors Kelsey Shebay and Jeff Coddington. The debt team was led by Senior Managing Director Jeff Sause, Managing Director Casey Wenzel and Analyst Matthew Ctvrtlik.
Updating a 1950s office asset in downtown Austin
Following the purchase, the current seller renovated and expanded Westview in 2018 into a LEED Gold-certified office structure, which offers floor-to-ceiling windows along with flexible floorplates. The redevelopment team included locally based contractor The Burt Group as well as Andersson Wise serving as architect.
Located at 316 W. 12th St., the creative office building is a city block west of the Texas State Capitol and has access to 2.9 million square feet of retail space in the vicinity and roughly 3,000 residential units, based on JLL data.
The multi-tenant building has one floor of office space located underground, a ratio of 1.00 parking spaces per 1,000 square feet and 2,531 square feet of retail space, CommercialEdge data shows. Tenant amenities include a rooftop terrace, a conference room, a fitness center and showers, a shaded courtyard, a cafe, an open-air space as well as bike lockers.
At the time of the sale, Westview was 93 percent leased. Based on CommercialEdge data, the tenant list includes WeWork occupying 46,410 square feet along with the Texas Association of Business and CTA Architects Engineers, among others. Recently, tech consulting giant Accenture renewed its lease at a 160,650-square-foot office complex in Southwest Austin.