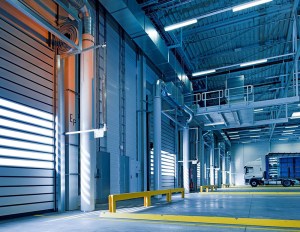 Two major industrial developments, totaling 2.2 million square feet, could come online within the 1,000-acre Pinal County Technology Park in Casa Grande, Ariz. Detroit-based Walbridge Group intends to develop a 1.2 million-square-foot logistics campus, while Wisconsin-based manufacturer of kitchen and bathroom fixtures Kohler Co. plans to build a 1 million-square-foot manufacturing and distribution facility. The city's Planning and Zoning Commission will discuss both projects in today's meeting.
Dubbed Desert 100 Pinal County Tech Park, Walbridge's project would come online on 92 acres at the intersection of Maricopa-Casa Grande Highway and Ethington Road. According to the preliminary site plan, the property would comprise two buildings of 312,742 square feet and 898,744 square feet, respectively, with 97 percent warehousing space and 3 percent office space.
---
READ ALSO: Timothy Hanifin on Phoenix's Booming Industrial Market
---
Plans call for a two-phase buildout, with the smaller facility to be constructed first. Amenities would include more than 830 car parking spaces and 435 truck parking spaces. The site will be served by a rail extension from the Union Pacific Railroad.
At the same meeting, the commission is to give the final stamp of approval for Kohler's manufacturing facility to take shape at the intersection of Ethington and Clayton roads. The project had already received the City Council's approval in November.
Mortenson will develop the facility on a 216-acre site, with construction slated for completion in 18 months. Kohler's initial investment is estimated at $300 million and the factory will ultimately employ 425 workers.
A hive of activity
Walbridge acquired the Desert 100 parcel in November, soon after Taiwan-based Chang Chun Petrochemical Group, a Taiwan Semiconductor Manufacturing Co. supplier, purchased an adjacent 84-acre swath of land, according to Pinal Central. CCP Group is only one of the multiple companies interested in an Arizona footprint after TSMC chose northern Phoenix for its chip fabrication plant.
The two plots, together with Kohler Co.'s site, will be developed as part of the first phase of Pinal County Technology Park. The triangular region located alongside Maricopa-Casa Grande Highway was initially the assemblage for a $3.3 billion Nacero gasoline production facility, but the company's plans never came to fruition.
Pinal County Technology Park will be the county's third-largest, after the 2,738-acre Inland Port Arizona in Coolidge, Ariz., and the 1,173-acre Interstate 10-8 Business Park in Eloy, Ariz. Next in size is another Casa Grande industrial campus called Central Arizona Commerce Park, home to Lucid Motors and Tractor Supply Co.
According to Kirk McCarville, a Land Advisors broker cited by Phoenix Business Journal, Pinal County in general and Casa Grande in particular have become very attractive for TSMC suppliers due to their significantly lower land prices than other metro Phoenix areas. In addition, the pro-business environment allows for the permitting process to be easier and faster.