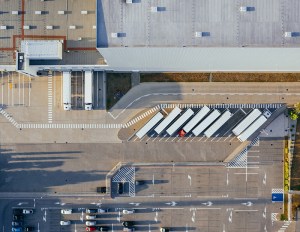 W.P. Carey continues a busy 2021 announcing a new round of industrial investments in North America totaling $137 million and bringing its investment volume year-to-date to about $900 million with a weighted average lease term of approximately 22 years. All three investments are sale-leaseback deals and cover five properties and about 2 million square feet.
---
READ ALSO: E-Commerce Continues Driving Industrial Growth
---
All the transactions closed within the last month. The most recent deal was a $45 million sale-leaseback of a 779,000-square-foot recently constructed distribution facility in New York, net leased to Orgill, the world's largest independent hardware distributor and an existing W.P. Carey tenant. The asset is triple-net leased for 26 years.
The facility, located along NY-49 near I-90, serves as Orgill's primary distribution center for the Northeast. Since becoming a tenant in 2018, W.P. Carey has partnered with Orgill on four acquisitions and two property expansions. The REIT now owns four of Orgill's seven U.S. distribution centers.
The largest transaction was the $49 million sale-leaseback of a 703,000-square-foot, Class A logistics facility in Alabama net leased to arts and crafts retailer JOANN, which has built a large omni-channel platform with retail stores in 49 states and a robust e-commerce business. The building, constructed in 2005, is a cross-docked facility with up to 40-foot clear heights. It is located along I-85 between Atlanta and Montgomery, Ala., on a site that allows for future expansion. The asset supplies nearly one-third of JOANN's 900 retail locations nationwide. The facility is triple-net leased for 20 years.
The last deal is a $43 million sale-leaseback of a three-property logistics portfolio totaling 497,000 square feet and net leased to a North American manufacturer of products for home living, industrial and recreational uses. The unidentified company has robust supply chain capabilities with a diverse, vertically integrated supplier network, longstanding relationships with big-box retailers and an infrastructure support system that provides e-commerce services. The properties comprise the company's primary distribution centers, including its headquarters, and are located in the Chicago and Toronto industrial markets. Two are situated close to O'Hare International Airport in the O'Hare and North Cook County submarkets. The portfolio is triple-net leased on two USD-denominated master leases by country for 15 years.
Earlier deals
The REIT has been announcing a series of sale-leasebacks and several acquisitions in recent months. In May, W.P. Carey said it had closed on a $65 million sale-leaseback of a 316,000-square-foot food production facility in the Midwest, net leased to a leading supplier of shelf-stable, dairy-based food and beverage products. The facility is triple-net leased for 25 years.
At the same time, the REIT announced two industrial acquisitions. The larger transaction was the $52 million purchase of a 203,800-square-foot flex R&D and manufacturing facility net leased to Velodyne Lidar, a provider of sensor technologies used for autonomous vehicles. The property is located near Highways 101 and 85 in the South San Jose, Calif., industrial submarket, and also serves as the company headquarters. It is triple-net leased with a remaining term of 6.7 years. W.P. Carey also made a $27 million off-market acquisition of a 567,000-square-foot, Class A light manufacturing facility in the Columbus, Ohio, industrial market net leased to a U.S. wholly owned subsidiary of Knowlton Development Corp. The property is located near U.S. 33, I-270 and Rickenbacker International Airport. It is triple-net leased for 15 years.
W.P. Carey also ended 2020 on a strong note. The REIT announced in January that it had made four industrial investments at the end of 2020 totaling $121 million and covering more than 1.5 million square feet. The final transactions of 2020 included three sale-leaseback transactions and a follow-on investment. The largest of the deals was a $39 million sale-leaseback of four manufacturing facilities in Ohio, Pennsylvania, Minnesota and Kansas totaling 488,000 square feet and net leased to a concrete wall panel manufacturer through a 25-year term master lease.