W.P. Carey Buys 236 KSF R&D Facility in Metro Boston
W. P. Carey has acquired for about $56 million the U.S. headquarters and R&D facility of Schneider Electric USA Inc.
By Scott Baltic, Contributing Editor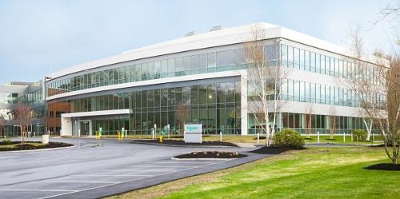 W. P. Carey Inc., of New York, has acquired for about $56 million the 235,900-square-foot U.S. headquarters and R&D facility of Schneider Electric USA Inc., Carey announced Friday. The seller of the Andover, Mass., facility was a joint venture between Leggat McCall Properties and Long Wharf Real Estate Partners, the property's developers.
The tenant is a subsidiary of Schneider Electric S.A., a French company that specializes in electrical distribution and energy management. The facility, in addition to being the U.S. subsidiary's headquarters, is one of Schneider Electric's five major R&D facilities and the only such facility in this country. It's home to more than 800 employees.
The Class A, LEED-certified building consists of a 158,650-square-foot facility built in 1998 and completely renovated in 2013–14 and a 77,250-square-foot addition completed earlier this year, a Carey spokesperson told Commercial Property Executive. Schneider signed an initial lease for the original building in December 2012 and extended in 2014, resulting in a remaining lease term of 15 years for the entire building.
The property, at 800 Federal St. in Andover, is part of Woodland Park, a six-building, 900,000-square-foot master-planned business park. Key sustainability and efficiency features of the building include the use of low-emitting compounds in adhesives, paints, flooring and furniture systems; a 600-ton chiller plant with economizer for free cooling; three energy-recovery units for fresh air; and 95 percent-efficient gas hot water boilers.
"This investment represented an opportunity to acquire a newly renovated Class-A, LEED certified facility that is critical to Schneider Electric's U.S. operations," Jason Fox, W.P. Carey managing director and co-head of global investments, said in a release. "Working with an established local developer, W.P. Carey secured a solid income-generating asset for our owned real estate portfolio. Because our strategy is to generate income and cash-flow over the longer term, we are an attractive source of liquidity for owners, developers and investors with shorter-term investment horizons and the desire to recycle their capital."
The Route 495 North East office submarket, Fox added, "has witnessed tightening vacancy and positive net absorption in 10 of the past 12 quarters. We have also seen significant momentum just south in the Burlington/Waltham areas, as market fundamentals continue to tighten north of Boston."