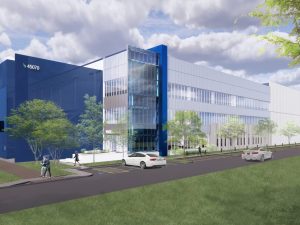 Northern Virginia's Data Center Alley continues to attract large investments. Hyperscale provider Vantage Data Centers has closed on a $300 million green loan for its upcoming VA13 facility in Ashburn, Va. European investment bank Société Générale provided the funds.
VA13 will be constructed within Vantage's 43-acre campus in Ashburn. The new facility will total 365,000 square feet and offer 44 megawatts upon full buildout. This will be the third out of five total planned data centers for the 146-megawatt, 1 million-square-foot campus. Tenants will have access to average power densities of 200 watts per square foot. VA13 is planned to come online later this year.
---
READ ALSO: ULI Report Aims to Accelerate Renewable Energy in CRE
---
Vantage's facility will have to meet specific criteria to benefit from the funding, including water conservation, carbon emissions reduction and achieving a low Power Usage Effectiveness. According to CFO Sharif Metwalli, the loan will allow the company to prioritize speed-to-market without sacrificing sustainability. Last year, Vantage made a pledge to achieve net zero emissions by 2030.
The campus' sustainability features will include efficient cooling with outside air economization, low water usage, lighting powered by wind and solar energy sources, as well as EV charging stations and drought-resistant landscaping. Electricity will be supplied by Dominion Energy, one of Virginia's top data center energy providers—according to its website, the company provides electricity to more than 12 million square feet of data centers.
Green financing for data centers takes off
This is the second green loan that Vantage obtained. The data center provider previously received a $68 million multi-phase loan, also from Société Générale, for its 32-megawatt facility in Quebec City. That data center became operational last month. Vantage plans to leverage green financing for future developments as well.
Green financing, either through green loans or sustainability-linked loans (SLLs), is gaining massive popularity in the data center sector. Both financing options are tied to sustainability-related goals. Proceeds from green loans must be used to finance a sustainable project—in this case the development of a green building. SLLs, on the other hand, are directly tied to the borrower's sustainability profile—over the term of the loan, the borrower must achieve pre-agreed ESG-related KPIs.
Both financing options have seen a rise in popularity for data center developers. This year, Aligned Data Centers increased its SLL from $375 million to $1.75 billion. Last year, the company issued $1.4 billion in the first-ever green data center securitization. In a similar move, colocation provider Flexential issued last year $1.6 billion in green asset-backed securities notes under its Green Finance Network.
CBRE research shows that both providers and end users of data centers are prioritizing meeting carbon neutrality targets and clean power solutions, but the sector's rapid growth makes this an especially challenging issue. Site selection will be likely impacted, and markets with an abundance of renewable energy will probably see an increase in new development.