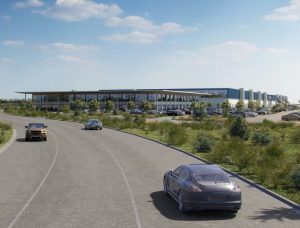 Calverton Aviation & Technology (CAT), a subsidiary of Triple Five Group, has announced the acceptance of its application by the Riverhead Industrial Development Agency (IDA) for the transfer of 1,644 acres of land for the construction of what is expected to be largest research, technology and industrial corporate park in the East.
The land in Riverhead, N.Y., will be first transferred from the Town of Riverhead's Community Development Agency to the IDA, who will then transfer it to CAT. This will mark the final step in the acquisition process that formally started four years ago. In 2018, the town entered into an agreement to sell the property to CAT for $40 million.
CAT announced it is ready to launch the first phase of the project that will transform the former Grumman test flight center. The developer is prepared to spend $245 million for this stage that is scheduled to be completed in the first five years following the closing of the transaction.
Referred to by CAT as "The Silicon Valley of the East," the development is being designed by bld Architecture. The facility's first tenants will mostly be in the aerospace, aviation and transportation industries. The complex will feature facilities dedicated to research and development, artificial intelligence, medical research and manufacturing, in addition to hosting infrastructure for warehousing, distribution and logistics. CAT also plans to maintain and upgrade the former air base's runway. The project will be located within 5 miles of Brookhaven National Laboratory, within close proximity to numerous rail and air travel outlets.
Justin Ghermezian Vice Chairman of the Board of Triple Five detailed the plans further, telling Commercial Property Executive, "It is more than a historic footnote when Long Island is referred to as the cradle of aviation. For generations it has been a center of research and technology for a variety of disciplines – from physics to aerospace – from molecular studies to medical research. Our plan to create a technology park on this extraordinary 1,644 acre site allows for the creation of state-of-the-art facilities for companies seeking inter-disciplinary opportunities adjacent to a 7,000 foot and 10,000 foot runway along with a rail spur."
Long Island's industrial growth
The Riverhead campus' development advances as Long Island's industrial and life science sectors continue to attract investment, despite supply chain challenges. The region's total inventory, vacancy rate and asking rents have all held stable, with development activity going strong. A JLL report for the second quarter of the year shows that 636,075 square feet of industrial space are under construction on the island, but over 10 million are proposed for development over the next four years, which would double existing inventory.
Another high-profile industrial project is The Rockefeller Group's Rockefeller Logistics Park, a 172,622-square-foot facility in Bay Shore, which broke ground recently.