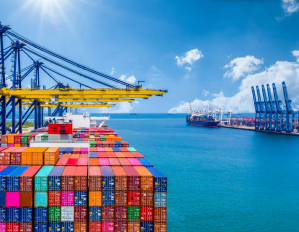 As we advanced into 2022, the industrial sector's supply-chain issues were further exacerbated by rising inflation and transportation costs, economic slowdown and shutdowns in China, a pre-pandemic truck driver shortage and port congestions, among others. These issues, coupled with demand which continues to outpace supply despite an ever-growing pipeline, have led to shrinking vacancies and high gaps between new signed leases and average in-place rents, especially in port markets, the latest CommercialEdge industrial report shows.
---
READ ALSO: Industrial Capital to Remain Abundant
---
National in-place rents for industrial space averaged $6.60 per square foot in July, according to CommercialEdge. Average rents increased by 530 basis points year-over-year and three cents when compared to the previous month. Average in-place rents were highest in California markets such as Orange County ($12.11 per square foot), Bay Area ($11.36) and Los Angeles ($10.74).
The difference between a lease signed in the last year and average in-place rents continued its upward trajectory, reaching a record-high $1.45 in July. Rent growth throughout the last year was led by port markets such as the Inland Empire (8.7 percent increase), Boston (8.0 percent), New Jersey (7.8 percent), Los Angeles (7.0 percent) and Orange County (6.8 percent) On the other side of the spectrum, Houston (1.5 percent), Columbus and Kansas City (2.5 percent both) fared the worst.
Nationwide, industrial market vacancy clocked in at 4.4 percent in July, down 20 basis points when compared to June. The tightest vacancies were recorded in the Inland Empire (0.8 percent), Columbus (0.9 percent), Los Angeles (1.9 percent) and Indianapolis (2.1 percent). Meanwhile, vacancy was highest in Tampa (8.7 percent), Houston (8.6 percent), Boston (8.4 percent) and the Twin Cities (7.8 percent).
Pipeline grows despite headwinds
Some 695.7 million square feet of industrial space was under construction nationwide at the end of July, representing 4.0 percent of total stock, CommercialEdge shows. When factoring in planned projects, the pipeline amounts to 661.9 million square feet, or 7.8 percent of total inventory. Despite rising interest rates and a slowdown in e-commerce growth, ground breakings continue at a fast pace: Nearly 200 million square feet of space have already been delivered year-to-date through July, and the amount of space under construction grew by 28 million square feet in June alone.
Development activity was concentrated in Dallas (61.4 million square feet, 7.3 percent of stock), Phoenix (45.2 million square feet, 15.6 percent of stock), Inland Empire (35.6 million square feet, 5.9 percent of stock) and Indianapolis (25.2 million square feet, 7.8 percent of stock). Meanwhile, activity was also high in Columbus, an emerging data center hub (17.9 million square feet, 6.5 percent of stock).
Read the full CommercialEdge report.