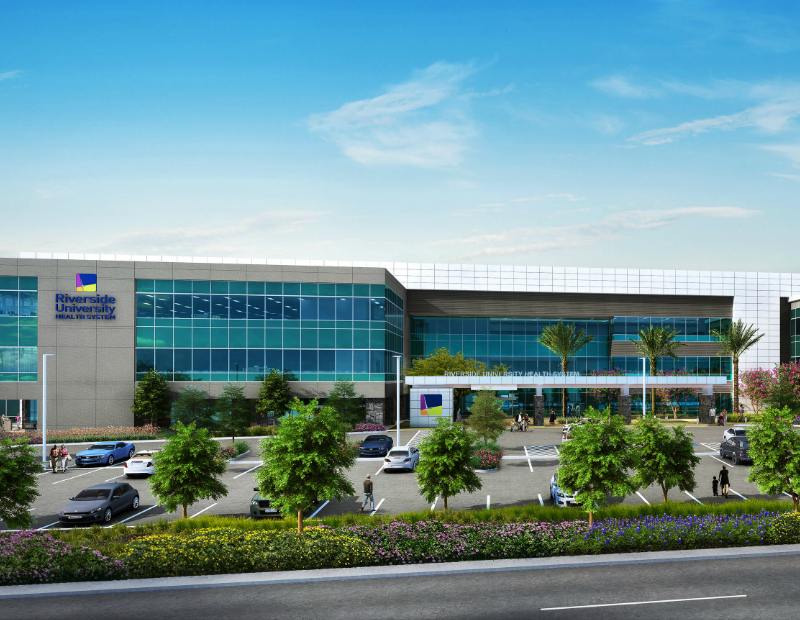 Trammell Crow Co.'s Newport Beach office has started construction on a new three-story medical office building to be utilized by Riverside University Health System (RUHS) in Moreno Valley, Calif. The project is scheduled for completion in 2019.
The 200,000-square-foot facility is designed to add specialty physician groups, an outpatient surgery center and expanded pharmacy services to RUHS Medical Center.
"The new facility will be integrated into and enhance the entire medical center campus," Tom Bak, senior managing director with TCC's Southern California branch, said in a prepared statement.
A century-plus of help
Situated on 17.4 acres on the southern portion of the 80-acre RUHS medical center campus, the new medical office building will boast a single-story 7,000-square-foot lobby and café and will be connected to the existing medical center by a second-floor pedestrian bridge.
RUHS is comprised of Riverside County's behavioral and public health services, including the 439-bed Medical Center in Moreno Valley and 10 federally qualified health centers. It has been providing healthcare in the community for more than 100 years.
"This new medical office building will bring improved outpatient services while freeing up the main hospital facility to focus on acute care," said David Nazaryk, managing director in TCC's Southern California—Newport Beach office.
Last month, Trammell Crow Co. completed the development of a 300,000-square-foot Los Angeles Toyota dealership. The four-tier facility boasts a two-story, 30,000-square-foot showroom with vehicle display, a 45-bay below-grade service department, 85 work stations, 550 parking stalls and a wholesale and retail parts boutique. To date, the company has developed or acquired more than 2,600 buildings valued at nearly $60 billion and totaling more than 565 million square feet. The company was named one of the top development firms by Commercial Property Executive and Multi-Housing News in 2017.
Image courtesy of Trammell Crow Co.