By Keith Loria, Contributing Editor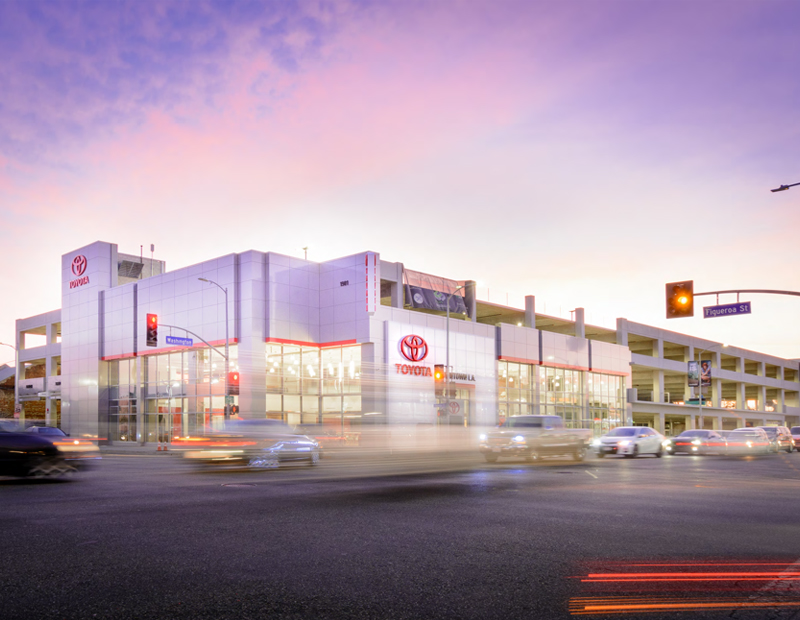 Trammell Crow Co. has developed a new 302,000-square-foot Toyota dealership in downtown Los Angeles for Lithia Motors.
The four-tier facility boasts a two-story, 30,000-square-foot showroom with vehicle display, a 45-bay below-grade service department, 85 work stations, 550 parking stalls and a wholesale and retail parts boutique. Additionally, a 60,000-square-foot mechanical shop is expected to service up to 200 vehicles per day. 
"We expect this facility to serve as an urban prototype, vertically integrating service and sales to create a more efficient layout," Abbey Ehman, Trammell Crow Co.'s vice president, told Commercial Property Executive. "This store represents the first below grade service department for Toyota, and the first elevated used vehicle sales, with vehicle display located on the second tier."
Located on 1.6 acres on the corner of Figueroa and Washington, the Toyota dealership is known as one of the nation's busiest, and features vertical integration of dealership elements, with the first below-grade service department for Toyota.
"Lithia is very much a growth-minded company, and recognizes that each one of the downtown Los Angeles stores has significant capabilities," Tom Dobry, Lithia Motors' chief marketing officer, told CPE. "Now we finally have a facility that corresponds to the potential of this store."
PDS Architects served as the project architect, while the ConAm Building Co. served as the contractor and Ware Malcom provided tenant improvement architecture and interior design. 
The building was completed in 16 months and included 103 concrete pours, 34,000 pounds of steel, 1,050 light fixtures and 1,100 personnel working 76,000 man hours.
"We are happy to invest in the resurgence of the Figueroa Corridor," Dobry said. "We see this as the first of many enhancements we anticipate in the area."
Lithia expands
Last summer, Lithia Motors Inc. acquired the Downtown Los Angeles Auto Group comprising Audi, Mercedes-Benz, Nissan, Porsche, Volkswagen and Toyota stores located in downtown Los Angeles and a Nissan store in nearby Carson. The company is one of the largest automotive retailers in the U.S. and is among the fastest growing companies in the Fortune 500, with 169 stores representing 30 brands in 18 states.
Trammell Crow Co. has developed or acquired more than 2,600 buildings valued at approximately $60 billion and totaling more than 565 million square feet. The company was named the top development firm by Commercial Property Executive and Multi-Housing News in 2017.
Image courtesy of Trammell Crow Co.