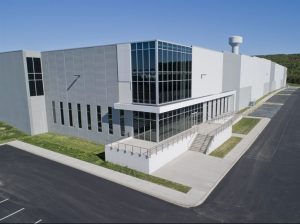 A partnership between Trammell Crow Co. and Diamond Realty has closed the disposition of Valley View Trade Center, a Class A industrial property totaling 1 million square feet in Jessup, Pa. Preylock Holdings paid $127.7 million for the fully leased asset, according to Lackawanna County records.
Preylock Holdings used a line of credit with a $1.1 billion limit for the purchase. Goldman Sachs provides the credit facility, public records show.
CBRE represented the sellers in the transaction. In March, the company also worked on behalf of the joint venture in inking a full-building lease with an e-commerce giant, later revealed to be Amazon. The fulfillment center is Amazon's second warehouse in the county and another over $100 million Amazon-leased facility purchase for Preylock Holdings. The Lackawanna County distribution center is slated to open this year, expected to bring more than 500 positions.
Valley View Trade Center
Trammell Crow Co. and Diamond Realty broke ground on the speculative industrial development in November 2018. The partnership retained KSS Architects to design the asset, while LJB Inc. served as structural engineer. Construction on Valley View Trade Center, located at 45 Valley View Circle, wrapped up in August 2020.
The industrial building features 40-foot clear heights, a 190-foot truck court and 159 dock positions. The property also offers 311 trailer parking spaces along with a 277-car parking lot.
Valley View Trade Center is within Valley View Business Park, with other notable tenants such as Chewy.com, TMG Health, McLane Co. and Pasqualichio Brothers Inc. The property is less than 7 miles from interstates 81 and 84 and within 12 miles of Scranton, Pa.
The CBRE National Partners Northeast team facilitating the sale included Michael Hines, Brian Fiumara, Brad Ruppel, Joe Hill and Lauren Dawicki. Recently, the brokerage also played an integral role in Starwood Capital Group's $407 million industrial portfolio acquisition. CBRE represented both parties in that transaction.