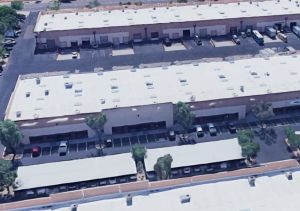 Starwood Capital Group continues to increase its industrial holdings through yet another acquisition transaction with EJM Development. The global private investment firm recently purchased an 11-property collection from EJM for a total of $407 million, expanding its portfolio by approximately 2 million square feet in metropolitan Phoenix, according to the Phoenix Business Journal.
Eight of the Arizona buildings that are now part of Starwood's portfolio are located in Phoenix proper, according to the same publication, which cites real estate database Vizzda as the source, while two are located in Tolleson and the remaining property is sited in Tempe. The group of assets includes 23910 N. 19th Ave. in Phoenix, and 407 N. 107th Ave. in Tolleson, which traded for $68.6 million and $60.8 million, respectively.
---
READ ALSO: The Rational Exuberance Around Industrial Real Estate
---
CBRE pulled double duty in the transaction, representing both EJM and Starwood. The firm orchestrated the closing of the sale of the properties on September 28, 2021, contributing to the most successful quarter of industrial investment sales in Phoenix history.
According to a report by Kidder Mathews, sales volume in the third quarter of 2021 reached a record high of $1.2 billion as a result of nearly 200 transactions, and the average price per square foot soared to its highest-ever level, $143 per square foot. "Investors and developers are highly confident in the Phoenix market, as the competitive advantage and growth drivers are stronger than ever," according to the Kidder Mathews report.
One transaction at a time
Starwood's acquisition of the group of 11 industrial assets from EJM comes nearly two months after the company announced that Monmouth Real Estate Investment Corp. had rejected its controlled affiliate's all-cash acquisition proposal, a counteroffer to Equity Commonwealth's bid for the industrial REIT. An agreement would have left Starwood with Monmouth's 24.9 million-square-foot portfolio of 122 industrial properties spanning 32 states.
In lieu of amassing a major industrial footprint in one fell swoop via a merger, Starwood appears to be rapidly expanding its portfolio via a series of one-off transactions—and EJM is turning out to be a solid source for the company. Earlier this year, Starwood enhanced its presence in the thriving Phoenix market with the acquisition of the 312,400-square-foot Kyrene Commerceplex in Tempe from EJM in a $54.9 million deal. And the fruitful relationship extends beyond the Phoenix area, as Starwood also purchased an EJM portfolio totaling approximately 490,000 square feet in Salt Lake City in the second quarter of 2021.