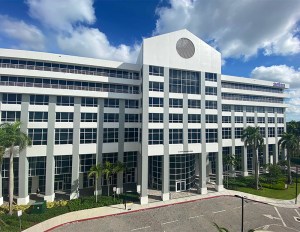 The Offices at Plantation Walk, an approximately 173,200-square-foot office building within the new $350 million Plantation Walk mixed-use development in Plantation, Fla., has come under new ownership. Encore Capital Management, developer of the Fort Lauderdale-area live-work-play destination, sold the Class A tower to Vision Properties in a $57.5 million transaction.
---
READ ALSO: Miami Market Update: Office Vacancy Holds Steady
---
Sited 10 miles outside downtown Fort Lauderdale and 30 miles from Miami's central business district at 261 N. University Drive, Offices at Plantation Walk opened in 2019 as the first structure to reach completion at Plantation Walk, which is the 27-acre reincarnation of the former 660,000-square-foot Fashion Mall at Plantation. The office property had been part of the 1980s-era shopping center before Encore invested $15 million in a comprehensive renovation program that transformed it into a premier workplace address.
Today, Offices at Plantation Walk holds the distinction of being one of the most walkable suburban office buildings in South Florida and, given its access to the 131,000 square feet of retail offerings at the 1.3 million-square-foot Plantation Walk, it is considered one of the best amenitized office facilities in Broward County. Aetna, lead tenant at Offices at Plantation Walk, staked a claim to 85,000 square feet before completion of the building, which is currently 92 percent leased.
Selling in the Sunshine State
The sale of Offices at Plantation at a premium price of approximately $330 per square foot is indicative of the strength of the office sector's asset pricing in the Fort Lauderdale area.
"Fort Lauderdale's office pricing has remained stable during the pandemic as investors briefly put sales on hold. As investment activity has begun to pick back up, office pricing has recovered well in 2021," according to a third quarter 2021 report by Avison Young. Pricing dropped a mere 0.8 percent from $263 per square foot in November 2019 to $261 per square foot in August 2021.
CBRE Capital Markets' Christian Lee, José Lobón and Marcos Minaya worked with Jay Adams of Newmark as representatives of Encore in the Offices at Plantation sale transaction. The parties did not disclose if the property sold unencumbered or if the transaction included the assumption of existing debt. In August 2020, Encore had secured $38.3 million in refinancing for Offices at Plantation Walk from New York Life.