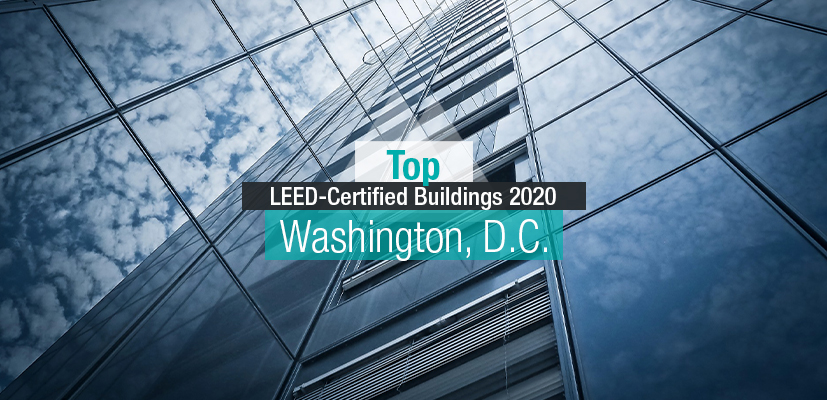 In 2020, the U.S. Green Building Council awarded different levels of certifications to 40 office buildings in Washington, D.C. The nation's capital was named the world's first LEED Platinum city in 2017, and in a ranking of 2020's Top 10 States for LEED Green Building, the metro received certifications for 129 projects across some 24 million square feet.
The list below highlights the top office projects in Washington, D.C., to receive LEED Platinum certification in 2020, according to USGBC data. The entries are ranked from largest to smallest, based on square footage.
| | | | | | | |
| --- | --- | --- | --- | --- | --- | --- |
| Rank | Project Name | Rating System | Address | Gross Area (sqft) | Date Certified | Certification Level |
| 1 | 250 Massachusetts | LEED-CS v2009 | 250 Massachusetts Ave. NW | 595,442 | 8/26/2020 | Platinum |
| 2 | Four Constitution Square | LEED-CS v2009 | 150 M St. NE | 524,568 | 1/10/2020 | Platinum |
| 3 | 2100 L Street | LEED-CS v2009 | 2100 L St. NW | 186,871 | 11/2/2020 | Platinum |
| 4 | 2100 K Street NW | LEED-CS v2009 | 2100 K St. NW | 154,765 | 8/14/2020 | Platinum |
| 5 | American Chemical Society HQ—Hach Recertification | LEED v4 O+M: EB | 1155 16th St. NW | 115,470 | 11/24/2020 | Platinum |
| 6 | American Chemical Society HQ—Othmer Recertification | LEED v4 O+M: EB | 1550 M St. NW | 96,629 | 11/27/2020 | Platinum |
Source: USGBC
---
READ ALSO: Top LEED-Certified Buildings in Maryland
---
1. 250 Massachusetts
The roughly 600,000-square-foot 250 Massachusetts Ave. is the second building to reach completion in Property Group Partners' 2.2 million-square-foot revitalization project spread across three city blocks. All Capitol Crossing's five buildings are designed to obtain LEED Platinum certification, with the 12-story 250 Massachusetts Ave. receiving the accreditation at the end of August. The property breaks into two towers on the fifth floor, with a tree-lined terrace separating the structures that also feature multistory lobbies and curtainwall glass.
Property Group Partners tapped Skidmore, Owings & Merrill as the master planner and Roche Dinkeloo as the architect. Located at the intersection of Capitol Hill and East End, the development will include district-wide energy cogeneration, a centralized water collection and reuse system that will treat more than 90 percent of stormwater runoff. Additionally, the project will feature eco-chimneys that employ biofilters to clean car fumes from the nearby Interstate 396 and an underground parking structure, returning clean air to the environment.
2. Four Constitution Square
Located at 150 M St. NE, the more than 500,000-square-foot building is part of the 2.7 million-square-foot Constitution Square development that spans a full city block next to the NoMa-Gallaudet U Metro station. Along with the adjacent 349,000-square-foot Three Constitution Square, the pair was sold to a partnership between MetLife Real Estate Investment and Norges Bank Real Estate Management for $421.8 million in 2016. The 12-story Four Constitution Square reached completion in 2019.
The U.S. Department of Justice occupies both buildings, as well as Two Constitution Square. DOJ employees can travel between Three and Four Constitution Square buildings thanks to a connecting walkway. The Constitution Square buildings include street-level retail space, underground parking, automatic lighting controls and HVAC systems. Four Constitution Square became LEED Platinum certified in March 2020; the asset is the only one on the list to be awarded the certification in the first half of 2020.
3. 2100 L Street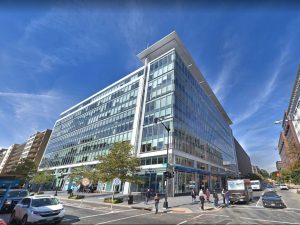 In a partnership with Corporate Office Properties Trust and Argos Group, Akridge recently completed the 186,871-square-foot office asset located at the corner of L and 21st streets. The 10-story building received LEED Platinum certification in November and features a state-of-the-art DOAS HVAC system.
According to public records, the developers received $116.3 million in construction financing from Manufacturers and Traders Trust Co. in 2018. Developed in collaboration with the rehabilitation of the adjacent Stevens School at 1050 21st St. NW, the asset features a pocket park that connects the school and office buildings and a rooftop terrace. WDG Architecture served as architect for the project, while James G. Davis Construction Corp. was the general contractor.
4. 2100 K Street NW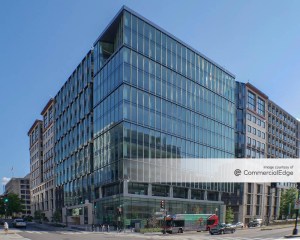 Blake Real Estate developed the 154,765-square-foot building as an extension of International Finance Corp.'s existing headquarters along Pennsylvania Avenue, located a little over a mile away from The White House. The 11-story asset allowed the tenant to grow its workforce from 1,800 to 2,800 employees. Shalom Baranes Architects provided architectural services and James G. Davis Construction served as the contractor.
The project received LEED Platinum certification in mid-August. Sustainable features include 26 percent energy savings over the industry baseline, as well as water-efficient plumbing, irrigation systems, raised planters and underground cisterns to manage rainwater discharge, a greywater system and use of a rooftop solar array for power generation.
5. & 6. American Chemical Society HQ—Hach Recertification & Othmer Recertification
American Chemical Society's headquarters in the East End includes two structures: The 115,470-square-foot Hach building and the 96,629-square-foot Othmer building. The two adjacent assets are located at 1155 16th St. NW and 1550 M St. NW and are the only recertifications on the list.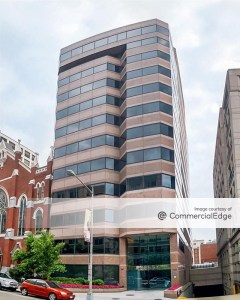 The Hach building was completed in 1959 and underwent complete renovations in 1994. The eight-story property received LEED Gold certification in 2007 and originally reached the Platinum level in 2012. The Othmer building was completed in 1988 and received LEED Platinum certification in 2012.
The American Chemical Society implemented practical and measurable strategies and solutions in sustainable site development, water savings, building materials selection, energy efficiency, innovation in design, as well as transportation and indoor environmental quality to receive LEED Platinum recertifications at the two buildings.