Top 5 Office Transactions in Phoenix
Office sales in the first six months of the year amounted to some $678 million and totaled roughly 4.2 million square feet, according to CommercialEdge data.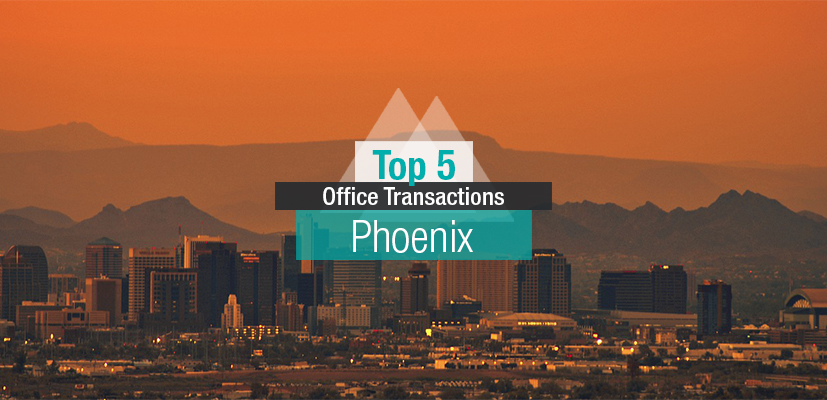 A highly skilled workforce and business-friendly environment have helped the Greater Phoenix Area become a prime choice for investors. With many big names leaving California, some are choosing the metro to relocate their headquarters or open new offices.
---
READ ALSO: Top Projects That Will Reshape Phoenix
---
In the first six months of 2021, investors targeted older, Class A buildings—both single- and multi-tenant properties—that have undergone significant renovations in recent years. Office sales amounted to some $677.7 million and totaled some 4.2 million square feet of space, according to CommercialEdge data.
This marks a 37 percent increase from the same period in 2020 when office sales totaled $495.2 million. The top five deals amounted to $322 million, equal to almost half of total transactions.
| | | | | | |
| --- | --- | --- | --- | --- | --- |
| Rank | Property Name | Sq. Ft. | Buyer | Seller | Sale Price (MM) |
| 1 | PetSmart Headquarters | 365,672 | BPM Real Estate Group | CIM Group | $110 |
| 2 | Anchor Centre West & Anchor Centre East | 336,939 | TerraCap | KBS Realty Advisors | $103.5 |
| 3 | The Mesa Tower | 325,788 | CAMCO | Barker Pacific Group | $39.5 |
| 4 | Ascend at Chandler Airport Center – Building C | 130,642 | Silver Creek Development | Irgens | $34.6 |
| 5 | Raintree Corporate Center I | 149,803 | Held Properties | Contrarian Capital Management | $34 |
5. Raintree Corporate Center I
In the second month of the year, Contrarian Capital Management sold Raintree Corporate Center I for $34 million. Held Properties purchased the 149,803-square-foot office building in Scottsdale, Ariz., with the help of a $19 million acquisition loan provided by Banc of California.
Situated at 15333 N. Pima Road within the 45-acre master-planned Raintree Corporate Center, the three-story building is some 27 miles from downtown Phoenix. The tenant roster includes the local offices of Regus, AmTrust Financial and Liberty Property Trust. The property was completed in 2001 and underwent cosmetic renovations in 2017.
4. Ascend at Chandler Airport Center – Building C
Silver Creek Development acquired the 130,642-square-foot Ascend at Chandler Airport Center in Chandler, Ariz., for $34.6 million in June. Sound Point Capital Management originated $23.8 million in acquisition financing for the new owner.
Seller Irgens developed the building located at 1811 E. Northrop Blvd. in 2016 and began a major tenant improvement project two years later when Zovio leased the property. Completed in 2019, the addition of a 50,000-square-foot mezzanine also included a town hall meeting space with stadium seating, a health clinic, a fitness center and a full-service café. Sustainable elements included solar panels and energy-efficient LED lighting.
The property is part of the Chandler Airport Center, a multibuilding corporate business park. When fully built out, the campus will comprise some 400,000 square feet of office space.
3. The Mesa Tower
Barker Pacific Group and Iron Point Partners sold Mesa Tower for $39.5 million after purchasing the asset in 2017 for $23 million. CAMCO Investment Group acquired the roughly 326,000-square-foot office building in April, with acquisition debt provided by UMB Bank.
Located at 1201 S. Alma School Road in Mesa, Ariz., the 16-story tower occupies 6.1 acres in an Opportunity Zone and is roughly 16 miles from downtown Phoenix. The building was completed in 1986, and most recently underwent renovations in 2018 and 2019. Upgrades included enhancements to the lobby, restrooms, common areas and interior building systems, as well as the addition of several spec suites.
2. Anchor Centre East & Anchor Centre West
In early 2021, KBS Realty Advisors sold the two-building Anchor Center for $103.5 million. TerraCap acquired the 336,939-square-foot office property in Phoenix's Camelback East submarket. BrightSpire Capital—formally known as Colony Credit Real Estate—originated $80.8 million in acquisition financing.
Located at 2201 and 2231 E. Camelback Road, the campus is roughly the same distance from both downtown Phoenix and downtown Scottsdale. The larger, 200,576-square-foot West building was completed in 1983, while the smaller, 136,363-square-foot East building was completed in 1987. KBS Realty Advisors' extensive renovations included upgrading common areas and restrooms, as well as expanding and modernizing numerous amenity spaces. The tenant roster includes local offices of Humana, Trammell Crow Co., Savills and Northwestern Mutual.
1. PetSmart Headquarters
The largest deal closed in the first half of 2021 in the metro was BPM Real Estate Group's purchase of PetSmart's corporate headquarters in March. CIM Group sold the 365,672-square-foot campus for $110 million, with 3650 REIT providing a 10-year, $68 million acquisition loan scheduled to mature in 2028.
The campus features three four-story buildings. The first building—roughly 186,000 square feet—was developed in 1997 and the remaining two were added in 2008, together with a six-level parking structure. The asset has served as PetSmart's corporate headquarters since 1997 and includes common-area amenities such as a fitness center, a café, an on-site day care and a dog park.
Located at 19601 N. 27th Ave., within the metro's Deer Valley submarket, the property is adjacent to Interstate 17 and less than 2 miles from BPM Real Estate Group's other Phoenix property, the 164,000-square-foot I-17 Office Center, fully leased to Consumer Cellular.