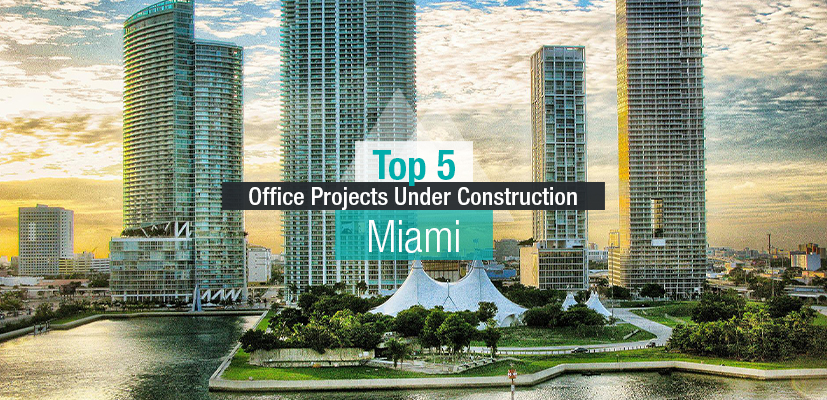 Miami's business-friendly environment, rapid population growth and attractive climate act as a catalyst for office investment and development in the metro. According to CommercialEdge data, the active pipeline included some 2.4 million square feet of office space across 18 properties as of June.
Construction activity was concentrated in Miami's Brickell submarket, where two office projects—some of the largest on our list—encapsulating more than 800,000 square feet of office space, were underway as of June. Developers also focused their efforts on the Central Business District: Three projects totaling 515,000 square feet of office space were under construction in the submarket, with the largest being Royal Caribbean's future headquarters.
Office deliveries amounted to 92,000 square feet year-to-date, with an additional 1.3 million square feet scheduled for completion by the end of 2022. CommercialEdge identified the largest office projects underway in the metro as of June, listed below.
| | | | | |
| --- | --- | --- | --- | --- |
| Rank | Property Name | Office Sq Ft | Owner | Anticipated Completion |
| 1 | 830 Brickell | 638,355 | OKO Group & Cain International | Q4 2022 |
| 2 | Royal Caribbean Headquarters | 350,000 | Royal Caribbean Group | Q1 2024 |
| 3 | UHealth Medical Center at SoLé Mia | 225,000 | Turnberry & LeFrak Organization | Q2 2023 |
| 4 | Plaza Coral Gables – South Tower | 222,541 | Agave Holdings | Q3 2022 |
| 5 | 1 Southside Park | 165,000 | JDS Development Group | Q4 2023 |
1. 830 Brickell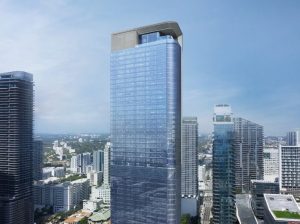 The largest development on the list is OKO Group and Cain International's 830 Brickell, a 638,355-square-foot office project in Miami's Brickell neighborhood. The joint venture broke ground on the 57-story building in February 2019, while full build-out is scheduled for the end of the year.
MSD Capital funded the construction with a $300 million loan. The development team includes Civic Construction as general contractor, DeSimone Consulting Engineers as structural engineer, while design and interior design services were provided by Adrian Smith + Gordon Gill Architecture and Iosa Ghini Associati. The roster of tenants include Blackstone, WeWork—which signed a lease to occupy more than 146,000 square feet within the building—CI Financial, Microsoft and, most recently, AerCap.
2. Royal Caribbean Headquarters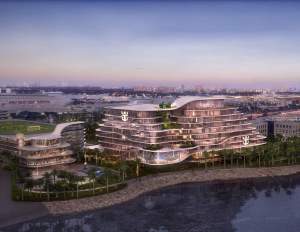 In August 2019, homegrown company Royal Caribbean announced its new headquarters, a 350,000-square-foot office project located at 1050 Caribbean Way in Miami's Central Business District. The 10-story building was expected to come online at the end of 2020, but pandemic-induced construction woes pushed the delivery date to 2024, according to CommercialEdge data.
Designed by HOK, the $300 million project will feature a cruise ship-inspired look. It will also include a parking garage, surface parking, green space, a fitness center and daycare for Royal Caribbean's employees, currently situated in separate office buildings and temporary spaces.
3. UHealth Medical Center at SoLé Mia
Earlier this year, Miami-based Turnberry and New York developer LeFrak Organization teamed up to develop UHealth Medical Center at SoLé Mia. Taking shape at 2111 SoLé Mia Way, the 225,000-square-foot office project will spread on 10 acres in North Miami's Biscayne Corridor and will encompass an additional 100,000 square feet available for future expansion. HSBC Bank USA financed the project with a $66.5 million construction loan, CommercialEdge shows.
The building is expected to come online in the second quarter of 2023 and will feature an adjoining parking garage. Situated within the 184-acre, $4 billion SoLé Mia master-planned project, it will provide nearby areas with cancer treatments, eye and ambulatory care, cardiology, neurology, otolaryngology, urology and orthopedics, as well as other services facilitated by The University of Miami Health System.
4. Plaza Coral Gables – South Tower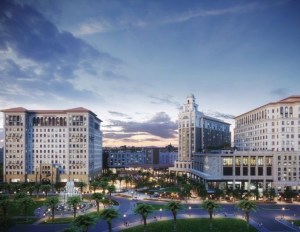 Agave Holdings started work on Plaza Coral Gables – South Tower in March 2020, when the pandemic was in its early stages. Upon completion—estimated in the third quarter of 2022—the 273,906-square-foot property will include 222,541 square feet of office space and 51,365 square feet of retail. PNC Bank originated a $100 million construction loan on behalf of the developer.
Located at 3011 Ponce de Leon Blvd. in downtown Coral Gables, Fla., the asset represents the second phase of the 2.1 million-square-foot, $500 million mixed-use The Plaza Coral Gables project, dubbed as the largest development in the city. According to CommercialEdge data, the project has attracted a wide array of prestigious tenants, including PNC Bank, ACI Worldwide, BAC/Bradesco Bank and HIG Capital.
5. 1 Southside Park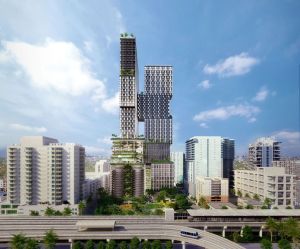 JDS Development Group is currently working on 1 Southside Park, a 2.5 million-square-foot mixed-use project in Miami's Brickell neighborhood. Encompassing 165,000 square feet of office space, more than 1,100 apartments, retail and a 189-key hotel, the two-tower development is one of the largest projects in Miami.
SHoP Architects and ODP Architecture & Design handled design duties, while James Corner Field Operations oversaw landscaping services. Scheduled for completion at the end of 2023, 1 Southside Park is rising at 1133 SW Second Ave., three blocks away from 830 Brickell.