Top 5 Largest Office Pipelines in the Northeast
New York City continues to dominate the region's construction activity, with the only exception being Philadelphia, where suburban areas recorded a higher amount of new deliveries than the urban core.
By Corina Stef
Development activity in the northeastern U.S. remains concentrated in established markets, where stable economies and steady cash flows are still very attractive to institutional investors. Manhattan continues to lead the way, as it has done over the past few decades, further fueling the creation of stand-alone submarkets densely populated by premier high-rises and live-work-play campuses.
The list highlights the Northeast's top 5 office markets based on square footage under construction as of April 2018. The ranking uses Yardi Matrix data regarding office assets totaling least 25,000 square feet.
5. Queens
New York City, one of the nation's key office markets, continues to strengthen that position, as well as continue to attract businesses due to its attractive economy, opportunities and quality office inventory. Its most sprawling borough is Queens, which boasts more than 2.8 million square feet of office space underway across 13 properties. Construction activity is concentrated in the Long Island City neighborhood, where 10 properties are expected to further add to its ever-changing skyline in the following years.
The largest upcoming asset is the 1.2 million-square-foot The Jacx, located at 28-01 Jackson Ave. Construction at the 26-story property began in April 2017 and is completion is scheduled for 2019. Tishman Speyer's creative office development will feature a landscaped park with more than 100 trees, high-ceiling floor plates and 40,000 square feet of retail space. Additionally, the property has already attracted a wide array of fashion and tech companies as future tenants.
4. Brooklyn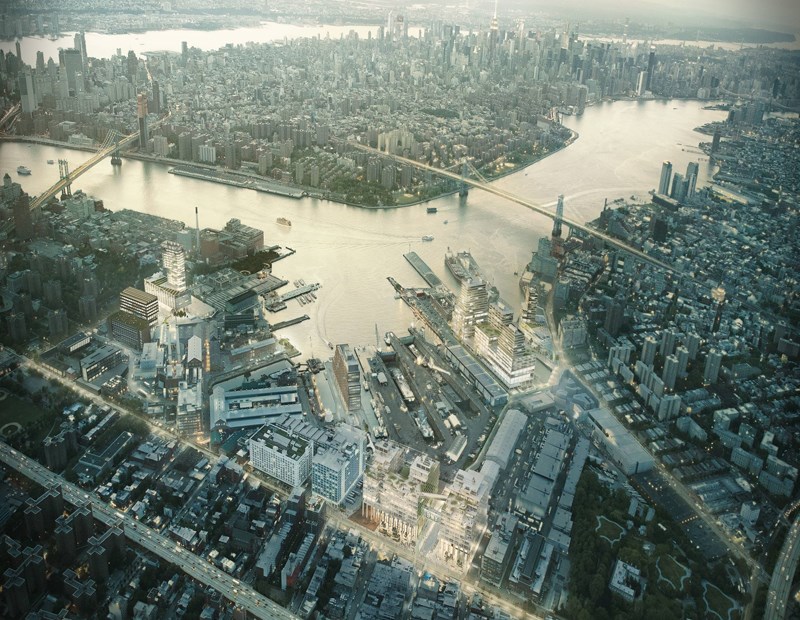 Brooklyn, the city's most populous borough, has roughly 3.6 million square feet of office space underway. Construction activity has picked up starting with 2016—730,000 square feet delivered—while the following year the amount of space doubled: 1.4 million square feet.
Roughly 2.2 million square feet are expected to come online this year, with the largest property in the pipeline being located in the up-and-coming Brooklyn Navy Yard. The former shipyard is undergoing a $2.5 billion remake, which will result in the addition of 5 million square feet of usable space and about 10,000 new jobs. Construction at the 675,000-square-foot Dock 72 began in May 2016 and the Boston Properties-owned asset is expected to open its doors later this year.
3. Boston
A strong market dominated by its well-performing technology and life science sectors, Boston recorded a robust job and population growth—larger than Los Angeles or San Francisco. The market conditions bolstered construction activity, resulting in more than 4.5 million square feet of office space now underway. Completions stayed under the 3 million-square-foot mark in 2015 and 2016 and dropped significantly in 2017, when only 1.6 million square feet of office space were delivered.
The largest office development scheduled to come online is the Akamai Global Headquarters in Cambridge, Mass. The 19-story property will bring 453,768 square feet of office space to the market and will be located at 145 Broadway, in the heart of the city's Kendall Square neighborhood. Boston Properties signed a 15-year lease with Akamai, the building's sole tenant.
2. Philadelphia
With more than 4.6 million square feet of office space under construction, Philadelphia comes in at second on this list. The market follows an atypical development pattern, as its suburban regions have outshined the urban areas in the past year. Positive absorption and a growing interest from small businesses and pharma companies alike have led to the growing inventory. If 2015 and 2016 saw the delivery of well under 1 million square feet of office space, 2017 was a strong year, with nearly 2 million square feet of office space added to the market.
This year, 3.2 million square feet are expected to be added to its office inventory. The largest project underway is Comcast Technology Center, a 1.6 million-square-foot, 60-story office tower located in the Central Business District. The property will also be Philadelphia's tallest skyscraper. Construction on Liberty Property Trust's asset broke ground in July 2014 and is set to be completed in the following months.
1. Manhattan
Development and leasing activity-wise, Manhattan remains the hottest market in the northeastern U.S. In spite of a drop in office lease rates and sales volume, construction activity reached its peak, with 21.8 million square feet under construction. The past year saw no major completions, apart from a 223,500-square-foot asset, while 2018 is lined up to be a banner year for deliveries—7.2 million square feet.
Construction activity is concentrated in the Hudson Yards area, a $15 billion, 28-acre emerging mixed-use project, the largest private real estate development in the history of the U.S. Construction on Mitsui Fudosan America's 2.9 million-square-foot 50 Hudson Yards started in September 2017, while the project is slated for completion in 2022. The area will be home to the second largest development in Manhattan, Time Warner's 30 Hudson Yards. Both assets have already attracted a large number of future tenants with diversified backgrounds such as BlackRock, KKR, Wells Fargo Securities, HBO and CNN.
Images courtesy of BNYDC and Hudson Yards New York