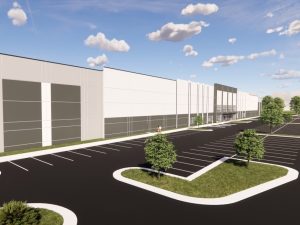 A partnership between The Meridian Group and Wickshire Industrial will break ground this week on One Logistics Park, a 2.7 million-square-foot industrial project in Winchester, Va. The developers acquired the 277-acre site for the $150 million project at the end of last year, marking TMG's entry into the industrial sector.
The first phase of the project is set to encompass a 360,000-square-foot cross-dock industrial building and another over 1 million-square-foot facility with 40-foot clear height, 50-foot-by-54-foot column spacing, speed bays, 250 trailer drops and 230 parking spaces. Upon completion, One Logistics Park will comprise nine buildings starting and over 100,000 square feet of space for gas service, restaurants and retail options. The first structure is expected to come online in the second half of 2023.
A joint effort
Shockey is the general contractor of the development, with GORDAN overseeing the civil engineering of the project and Perry Engineering handling horizontal construction. MGMA is the architect of the project. Executive Vice President John Lesinski and Vice President Ben Luke of Colliers will market the facility.
Located alongside Interstate 81, next to the Winchester Regional Airport, the property will provide convenient access to the Baltimore-Washington, D.C., area, as well as interstates 66 and 70. Other tenants in the area include Kohl's Distribution Center, Aero Global Logistics and Triad Engineering Inc.
Currently, One Logistics Park represents TMG's and Wickshire Industrial's only logistics project under construction. When complete, the facility will complete the city's 457,900-square-foot warehouse and distribution inventory, according to CommercialEdge data.