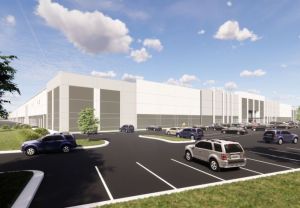 The Meridian Group has acquired a 277-acre site for the development of One Logistics Park, a best-in-class distribution logistics center that will feature as much as 2.8 million square feet of leasable space in Winchester, Va. TMG, which will develop the $150 million complex in partnership with Wickshire Industrial, acquired the land from a consortium that included JGR Three, Hockman Investments and Governor's Hill LLC.
One Logistics Park will mark TMG's debut in the industrial sector after nearly three decades as an investor and developer with a focus on office, residential, hotel and mixed-use real estate. TMG's entrée into industrial may surprise others, but the company is undaunted by the sudden shift into new territory.
Asked how he would have responded had he been told five years ago that he'd be in the industrial real estate business today, Gary Block, partner with The Meridian Group, told Commercial Property Executive, "Our product type expertise is broad-based, and we follow demographics and tenant demand."
It was the pandemic that motivated TMG to expand its investment strategy to embrace the industrial sector. The global health crisis expedited a growing surge in e-commerce, which spurred greater demand for logistics accommodations. Today, the ongoing demand among companies and customers for faster delivery continues to bolster the thriving industrial real estate sector.
There's timing, and then there's location
Located roughly 75 miles west of Washington, D.C., the site TMG acquired for One Logistics Park is a vacant stretch of land near the Winchester Regional Airport. It holds the advantage of sitting along Interstate 81, a corridor commonly known as the transportation backbone of the East Coast, providing access to more than 50 percent of the U.S. within an 11-hour drive.
TMG and Wickshire will develop One Logistics Park in phases, with the initial segment of the project yielding nearly 1.4 million square feet in the form of a 1 million-square-foot facility and an additional structure totaling approximately 360,000 square feet. The common thread between the company's first industrial project and its other developments will be a campus environment with a focus on onsite amenities, security and ease of access.
Colliers International has committed to overseeing leasing for One Logistics Park. TMG and Wickshire expect to break ground on the project in the first quarter of 2022, with plans of delivering the first building in the second half of 2023.