By Scott Baltic, Contributing Editor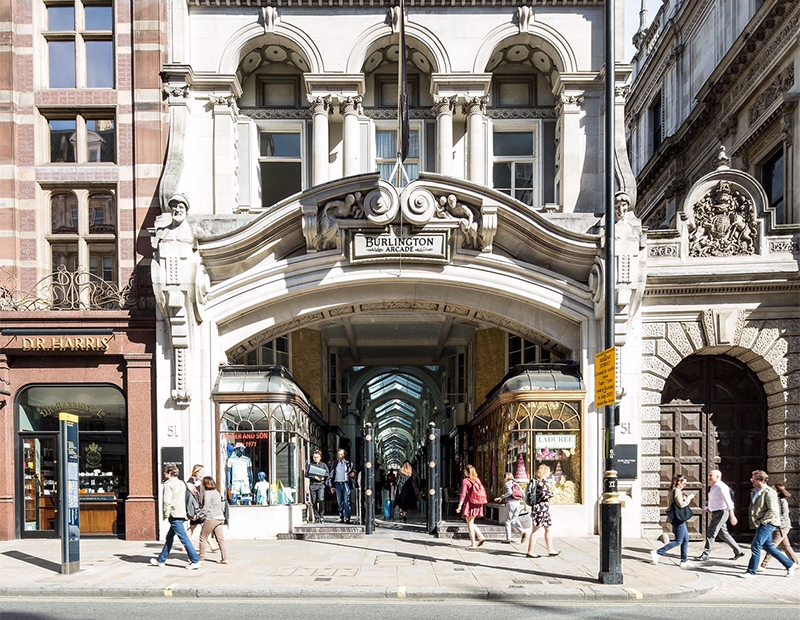 Thor Equities and Meyer Bergman have agreed to sell London's iconic Burlington Arcade to a private investor for $406.5 million (£300 million), the sellers announced.
Thor and Meyer Bergman acquired the renowned luxury retail destination for $141 million (£104 million) in 2010 and later completed several upgrades to the property, including stone floors sourced from English quarries. British architect Jamie Fobert restored original details, such as the building's grand upper arches.
In 2014, the Arcade had an influx of Chanel-owned labels, including swim-and-lingerie label Erees, watchmaker Bell & Ross, milliner Maison Michael and knit label Barrie. These joined other top-shelf retailers such as Ladurée, Vilebrequin, Harrys of London, Lulu Guinness and Church's.
More recently, the property has added luxury brands Manolo Blahnik, Frederic Malle, La Perla and historic perfumer Atkinsons.
Burlington Arcade's 51 retail spaces are currently 100 percent occupied, a Thor Equities spokesperson told Commercial Property Executive.
"After repositioning and restoring the Burlington Arcade to its former glory, we felt the time was right to sell this historic landmark," Joseph Sitt, CEO of Thor Equities, said in a prepared statement. "With its magnificent redesign and new luxury tenants, the property will remain a treasured London destination for generations to come."
Considered a landmark since its completion in 1819 as Britain's first shopping arcade, Burlington Arcade remains the United Kingdom's longest covered shopping street, extending from Piccadilly to Burlington Gardens, parallel to Bond Street, in London's posh Mayfair district.
With about 37,000 square feet of retail space and a combined frontage of more than 1,100 feet, the Arcade reportedly attracts more than 4 million visitors a year.
The freehold property has a Grade II protection listing.
London retailing a mixed picture
The Retail Property Outlook 2018 from Knight Frank predicts that "2018 is likely to be just as challenging for the UK retail sector as 2017," but adds that despite retailer caution, some pressures have eased. For example, the report notes, "many of the post-Brexit inflationary pressures have now annualised and will increasingly drop out of the equation."
2018 is likely to see investors paying a greater premium for new long leases (15 years and more), because of a scarcity of tenants signing up for long-term leases in high street locations, according to Knight Frank.
Still, London is in enviable shape among the world's great cities. In November, a Cushman & Wakefield report identified London's New Bond Street as the home to the world's third-highest retail rent and noted that Central London is seeing increased demand from both overseas and domestic visitors.
Image courtesy of Thor Equities