By Steven Bandolik and Jim Berry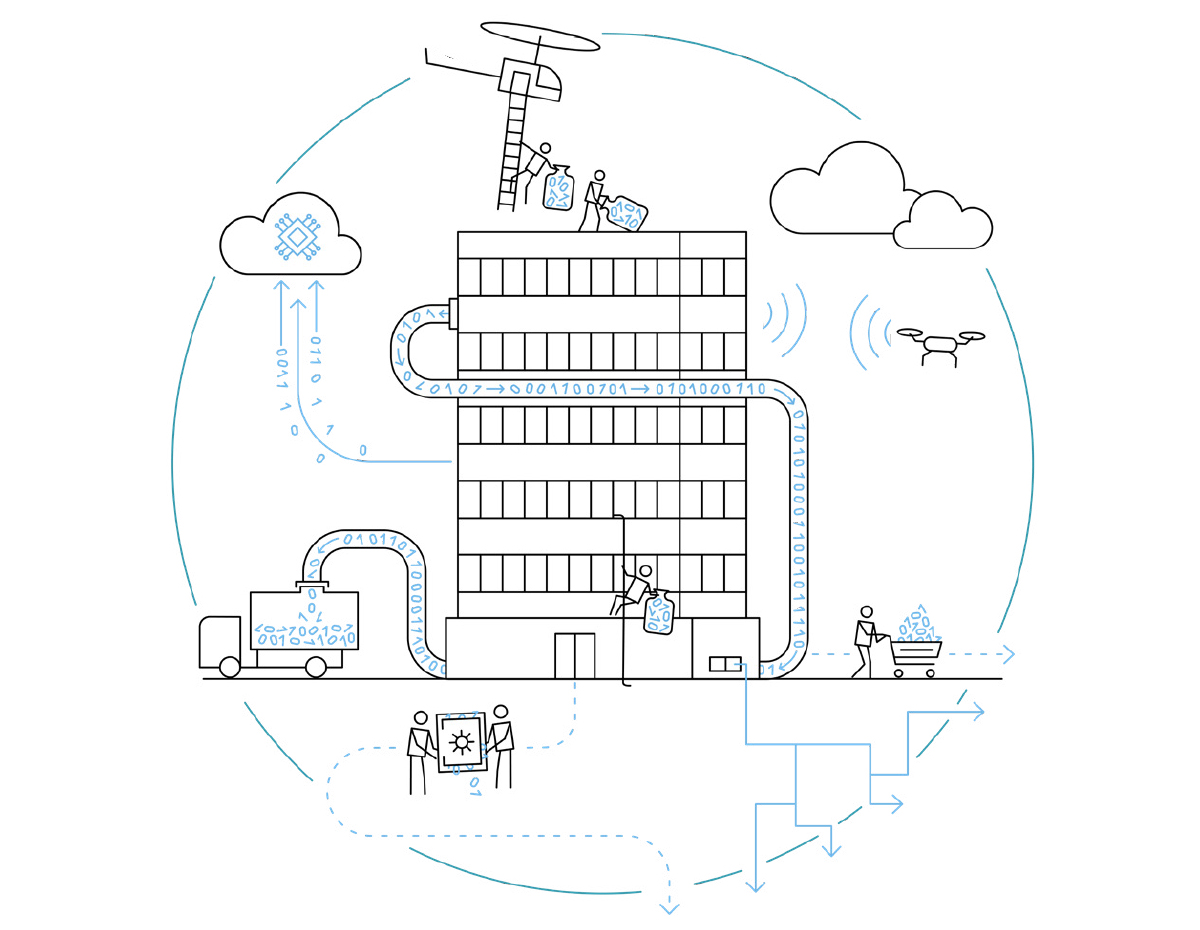 Data analytics may not be the flashiest of emerging technologies when stood up against virtual reality or artificial intelligence, but it is rapidly trending in terms of its criticality to the CRE industry. Companies across the sector are sitting on troves of exponentially growing data that can support smarter operating and investment decision-making, underpin digital transformation projects and more.
But for now, most of these powerful data insights remain latent. Historically, CRE firms have lagged behind other industries in responding to technological change, due to the general lack of margin pressure in the industry.
The message for CRE executives this month is this: Do not become comfortable with traditional business models, because real estate is, after all, just as vulnerable to digital disruption as any other industry.
In fact, we recently published a report, "Data is the New Gold," on disruption to retail real estate via technology and data companies, which are bringing internet-connected home products to market. These companies pose an emerging threat to traditional CRE businesses, because they have the existing clout and infrastructure to rapidly deploy and scale data analysis solutions. And while they are not yet making a concerted effort to penetrate the CRE space, disruption is almost certainly on its way.
CRE firms sit at the data source, which presents enormous opportunity, but to position themselves properly, they face the hurdle of moving from lagging to leading when it comes to re-wiring their business models to be primarily data-driven and digital. With that transformation comes challenges:
First, there's the issue of capturing, scrubbing and processing dizzying amounts of data that are endlessly growing. The solution to this problem lies in some of the newer technologies mentioned in our opening: artificial intelligence, augmented and virtual reality (AR/VR), robotics—all of which are designed to tackle large-scale, complex tasks. For example, AR/VR can be used in facilities management to aid in the visualization of technical components similar to x-ray glasses, optimize supply chains and assist resource planning through the live tracking of employees.
Another key challenge firms must overcome in adopting the data-driven business model is data ownership (see our June column on smart buildings). Data access and ownership battles are common in shared situations; for instance, in office buildings, where tenants might produce data themselves but process it using building management systems owned by the property management company—does the tenant or the property manager own the data? When setting up data analytics systems, it's important that CRE firms weigh collaboration with users and owners against making an investment to own and operate the relevant technological systems themselves.
Finally, firms must also consider the global regulatory environment and how they can design data analytics tools to be compliant. The perfect example right now is the European Union's General Data Protection Regulation (GDPR), which protects the privacy of all EU customers, regardless of where the company that holds their data is based. The trick is to design a system that can manage GDPR's mandates on security and privacy and also scale to accommodate future data laws that could be issued by the U.S. or other countries.
If CRE firms continue to snooze on data analytics and other technologies, asset and property managers may lose significance to big data companies that fill the gap. Slowly, the CRE industry is moving in the direction of complex, interconnected, high-tech and automated services. If done correctly, firms will be able to enjoy a competitive advantage.
Steven Bandolik is a managing director with Deloitte Services LP and a senior leader in Deloitte¹s real estate practice. Bandolik provides advisory services in capital markets (debt and equity), corporate finance, mergers and acquisitions, investments, strategy, restructuring and reorganization, and asset recovery. Bandolik brings more than 30 years of effective, hands-on real estate investment, finance, development, and asset/property management experience, both as a leader and as a strategic advisor.
Jim Berry is a partner with Deloitte & Touche LLP and the leader of its U.S. real estate sector practice. He has more than 33 years of experience serving companies in the real estate, construction and hospitality industries.
Read the September 2018 issue of CPE.