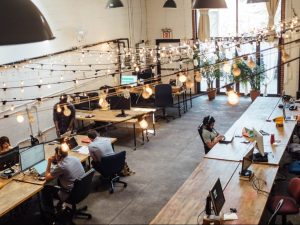 The Malin, a New York City-based coworking venture, is opening two new flex office spaces, totaling 20,000 square feet, in New York City, according to New York YIMBY. The new coworking spaces in Brooklyn and Manhattan represent the company's third location in the city, following last year's entry into the market with another location in Soho.
The Malin will lease the 10,000 square feet in the Williamsburg area of the city at 109 N. 12th St., offering 40 coworking desks and monthly or daily access to private offices, conference rooms, a library, shared workspaces and a kitchen. Common-area amenities include a fitness center, swimming pool and restaurants. The property is next to McCarren Park and several green areas. Numerous dining and retail options, such as Trader Joe's and a Whole Foods Market, are within half a mile of the property.
The Malin West Village will offer private offices and shared workspaces across 10,000 square feet in a former warehouse and distribution property, located at 134 Charles St. The property is within half a mile of Washington Square Park and next to numerous transit lines and entertainment hubs.
Even though the NYC coworking space registered a decrease in demand due to the health crisis in the previous year, major companies are expanding their flex office footprint in the metro. In the past two years, Industrious opened three other coworking spaces in NYC, two of them in Midtown Manhattan and another in Tribeca.