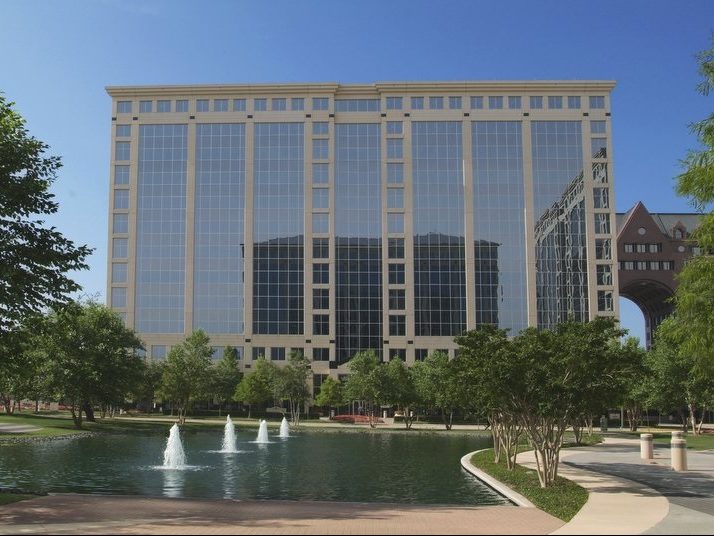 Taconic Capital Advisors has landed a very big tenant at International Plaza I, part of a 757,000-square-foot, two-tower campus on the lower Dallas North Tollway in Dallas. Tenet Healthcare Corp. will occupy the 372,000-square-foot building in its entirety under a long-term lease agreement.
The lease comes roughly one year after Taconic's $115 million acquisition of International Plaza I and II, which stand side-side at 14201 and 14201 N. Dallas Parkway, linked via skybridge. International Plaza I made its debut in 1999; however, the building will offer Tenet the amenities more commonly seen at projects that are just hitting the market, as Taconic is currently implementing a multimillion-dollar capital improvement program at the HKS Inc.-designed campus. It's a timely move.
"In a tight labor market, many tenants are attracted to the most amenity rich properties, which are typically the latest construction. However, properties with owners willing to reinvest in second-generation buildings—at the right locations—can still be an attractive alternative to the newer construction as seen by leasing in the lower tollway portion of Far North Dallas, Richardson/Plano and portions of the Dallas CBD," Kathy Permenter, co-founder of Younger Partners, told Commercial Property Executive.
Taconic relied on Cushman & Wakefield's Chris Taylor, Trey Smith, Matt Schendle and Lauren Napper to market the property. Permenter and fellow co-founder Moody Younger represented Tenet in the lease transaction. The health-care company will see Taconic complete renovations at International Plaza in December 2019.
Pursuit of the new and like-new
Developers and property owners are responding to office users' loud call for shiny new accommodations in Dallas. Nearly 1.9 million square feet of office space was under construction in the metropolitan area in the first quarter of 2019, according to a report by Cushman & Wakefield, and roughly 626,500 square feet of new office product came online, the majority of which was pre-leased.
"The Dallas/Fort Worth office market remains one of the most active in the country from a corporate perspective, with new construction spurring many larger tenants to consolidate into the latest new developments," Permenter said.
Strong commitments to upgraded space have also kept leasing activity lively. Recently, law firm Kane Russell Coleman Logan PC signed on for 45,000 square feet of completely renovated space at the iconic Bank of America Plaza, which has long stood as Dallas' tallest office building.