By Keith Loria, Contributing Editor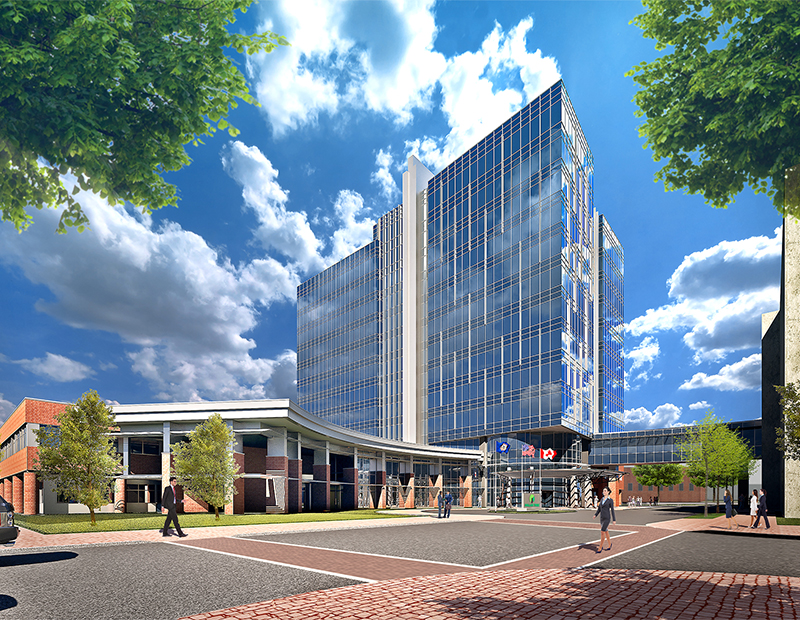 Summit Pointe Realty LLC has released its latest plans to continue the development of Summit Pointe, a $300 million urban mixed-use project in Chesapeake, Va.
Dollar Tree will occupy the 510,000-square-foot, high-rise office tower under construction at Summit Pointe. Overall, Summit Pointe is zoned for the development of 1 million square feet of office space, more than 1,400 residences, as much as 500,000 square feet of retail space and 250,000 square feet of hospitality and conference space. The first phase of the project is geared toward urban living, workplace solutions, entertainment and shopping options.
"The Summit Pointe experience will offer workers, residents and visitors a dynamic social environment unmatched in the region," Rick West, Chesapeake's Mayor, said in a prepared release. "Upscale offices and residences, cafes, a boutique hotel choice and unique retailers will blend together to create the Summit Pointe experience. This is the beginning of a new downtown in Greenbrier for Chesapeake."
The tower will serve as the the world headquarters for Dollar Tree and will include an adjacent parking deck with 1,500 public parking spaces. The building will frame the tree-lined Belaire Avenue, a gathering place for new entertainment and dining options in the area, and home to numerous outdoor musical events, festivals and other functions.
Expected to be completed this summer, the new high-rise will be the tallest office tower in Chesapeake, visible from Interstate 64.
"Great companies are attracted to great places. We are building a dynamic campus environment at Summit Pointe," Bob Sasser, Dollar Tree's executive chairman, said. "This project will enable our company, the City of Chesapeake, and the entire Hampton Roads region to attract top-tier talent and grow the workforce and business landscape of the future."
Looking ahead
Other planned developments of Summit Pointe include a boutique hotel, an upscale residential community with unequaled lifestyle amenities containing at least 600 units, more than 100,000 square feet of new retail and restaurant spaces, and at least 100,000 square feet of traditional and modern workspaces.
In April, Dollar Tree announced it was increasing its distribution center portfolio with the development of a 1.2 million-square-foot, $110 million distribution center in Warrensburg, Mo.
Image courtesy of Summit Pointe Realty LLC